Sample Langhirano's world-famous Parma ham, and visit the nearby fresco-filled fairy-tale Castello di Torrechiara.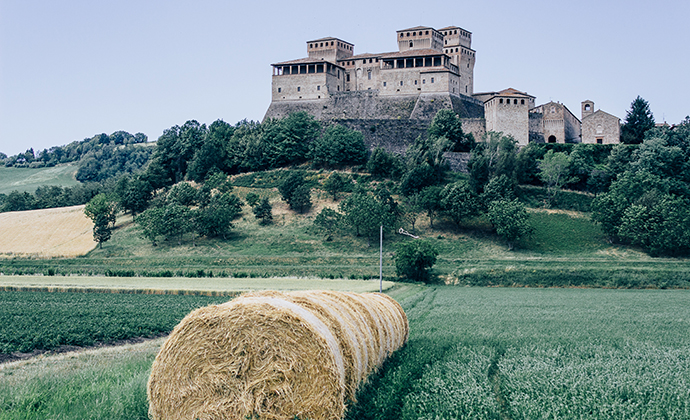 The foothills south of Parma are the source of much happiness – almost all of the famous Parma hams are produced here, as well Parmigiano cheese, DOC Colli di Parma wines, mushrooms (porcini in autumn, prugnolo in spring) from Borgo Val di Taro, and truffles from around Calestano.
The Taro Valley was always an important route through the northern Apennines. It branches at Fornovo; one road (the SS308) follows the river before crossing the mountains into Liguria, and another (the SS62, paralleled by the A15 motorway) takes a more tortuous path over to Tuscany. Such a strategic area naturally has sprouted plenty of castles.
The most photogenic of all the duchy's castles, Castello di Torrechiara is a magnificent brick fantasy, almost unchanged since it was built by Pier Maria Rossi 'Il Magnifico' (1413–82), humanist, linguist, astronomer and military captain. Visible from miles around, it's defended by a double set of walls and four mighty towers, each surrounded and linked by covered walkways.
The elegant courtyard has ornate terracotta tiles; the ground floor has excellent frescoes by Cesare Baglione, who also painted the delightful cycle of acrobats performing impossible feats with hoops on the backs of lions. The castle's best frescoes, however, are by Bonifacio Bembo in the beautiful Golden Bedchamber, where Pier Maria brought his young lover Bianca Pellegrini, and where he died in her arms. Bembo covered the walls with gold leaf (now gone) and a fresco cycle dedicated to their love and the Rossi's 40 other castles.