Seek out the early Renaissance at its most exquisite, in the magic frescoes of Palazzo Schifanoia.
There's been a certain mystique attached to Ferrara ever since Jacob Burckhardt called it 'the first modern city in Europe' in his classic Civilization of the Renaissance in Italy. Whether or not Burckhardt was exaggerating can be debated endlessly; it is certain that the famous 'additions' to the medieval city in the Renaissance were far too ambitious. Ferrara, even in the most brilliant days of the court of the Este family, never had more than 30,000 citizens – not enough to fill the long, straight, rational streets laid out within the 9km circuit of its walls.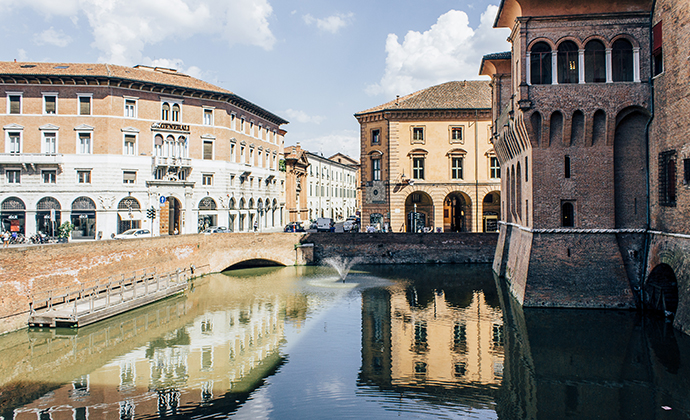 But what was a failure in the Renaissance is a happy success today. If Italian art cities can be said to go in and out of fashion, Ferrara is definitely 'in', popularised by a well-received international campaign to save its uniquely well-preserved walls, and a rebirth of interest in the city's great quattrocento painters.
Thanks to the rather tyrannical Este, the charming city enclosed by those walls was one of the brightest stars of the Renaissance, with its own school of art led by the great Cosme Tura, Ercole de' Roberti, Lorenzo Costa and Francesco del Cossa. Poets patronised by the Este produced three of the Italian Renaissance's greatest epic poems – Boiardo's Orlando Innamorato (1483), Ariosto's better-known continuation of the same story, Orlando Furioso (1532), and Tasso's Gerusalemme Liberata (1581).
Ferrara's career as a centre of culture – along with its economy and its civic pride –went down the drain when the popes took over in 1598. Even more than in Bologna, the nearly three centuries of papal rule meant poverty and obscurity for the city.
It's been a long climb back, but today Ferrara is a contented and very prosperous city of some 135,000, with a big chemical industry leading a diversified economy. The entire city is a UNESCO World Heritage Site, and its university is rated as one of Italy's best. But don't ask about the microclimate; it's steamy and swarming with mosquitoes in summer, weirdly frosty in winter. A lot of its important buildings are still closed, under repairs from the earthquake of 2012.
Otherwise things are grand. Ferrara's good fortune is to be off the tourist track. The people who are always getting in your way in Venice and Florence have never heard of the place; seeing the sights is a stress-free delight. Do it by bike. Ferrara's proudest distinction right now is that of all European cities, it takes third place in the ratio of bicycles to people; many of the hotels are happy to lend or rent you one.