Taste the olive oil of this medieval village set in the beautiful landscape of 'Tuscan Romagna'.
Brisighella, 12km south of Faenza in the Lamone Valley, is a charming colour-drenched village, a certified 'Slow City' and thermal spa with an unforgettable skyline of sharp crags crowned by the golden towers of the castle and the Torre dell'Orologio, the latter originally a respectable guard tower (1290) with a clock slapped on the front.
Brisighella produced much of the clay fired in Faenza's kilns – next to the village you can see the gashes left in the hills by the old quarries. So precious was this cargo that a protected, elevated passageway, the Via degli Asini (road of donkeys), was built through the centre that could be sealed up at either end in case of attack. Be sure to visit at the weekend, when the sights are open.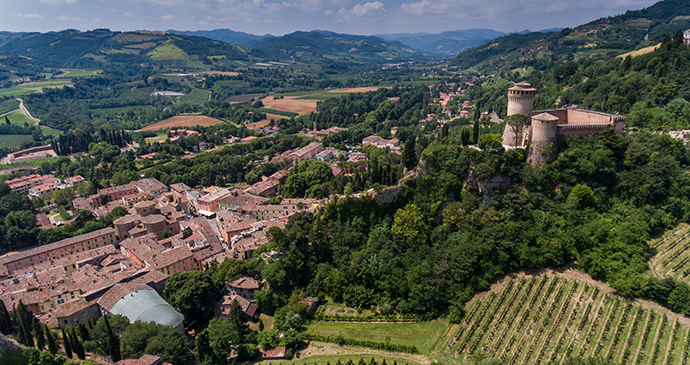 Olive oil and artichokes
Brisighella has been on foodie maps for decades, thanks to its unusual thick green olive oil, the first in Italy to be designated DOP (Denominazione di Origine Protetta).
It all has to do with what the French call terroir: it's one of the coldest places in Italy where olives grow, but it means the olives ripen more slowly and aren't plagued by the olive fruit-fly pest. The Apennines here are lower than the mountains to the west, allowing warm Tuscan breezes to dissipate the fogs and frost, while the unique chalky soil, poor in clay, maintains the summer heat.
The resulting oil is very low in acidity, but richer in fat, giving it an extra-long shelf life. Three varieties grow here in the 12km zone: Nostrana of Brisighella (the bulk); Ghiaccola (the fattiest, sold as Nobil Drupa) with a grassy, peppery taste; and even rarer Orfana (bottled as Orfanella), which is mild and lighter.
In springtime, don't miss Brisighella's other one-off: carciofo moretto, long, pointy, reddish-purple artichokes that grow nowhere else in the world. They are tender enough to eat raw, or boiled for a few minutes and served with olive oil and salt, or in salads, or in a hundred other local recipes.