Sarlat is one of the most beautiful and distinctive towns in France and the choicest stretch of the Dordogne as it flows out of Quercy past stunning villages such as Domme and La Roque-Gageac, and a mini-Rhineland with a castle around each bend.
'Mon Dieu, there's nothing here but foie gras!' muttered an old farmer, brought by his relatives to Sarlat for a Sunday afternoon promenade. Of course he's right: nearly every boutique glitters with stacks of shiny tins and jars. But such rich stuff fits Sarlat perfectly well, for, cocooned inside its clinking ring of sprawl, this golden Renaissance town is architecturally the foie gras of southwest France.
What to see and do in Sarlat
Place de la Liberté
All of the medieval lanes in Sarlat lead to this urbane, elongated vortex of a square. The 17th-century Hôtel de Ville is here, next to the Hôtel de Maleville, a 16th-century combination of three older houses, with two Renaissance façades – one French, one Italian. It belonged to Jean de Vienne, a local boy who owed his rise to high office to Henri IV (see the portrait medallions of the king and a woman – either Henri's wife Marie de' Medici, or his mistress Gabrielle d'Estrées). It was later owned by the family that produced Jacques de Maleville, a key author of Napoleon's Code Civil.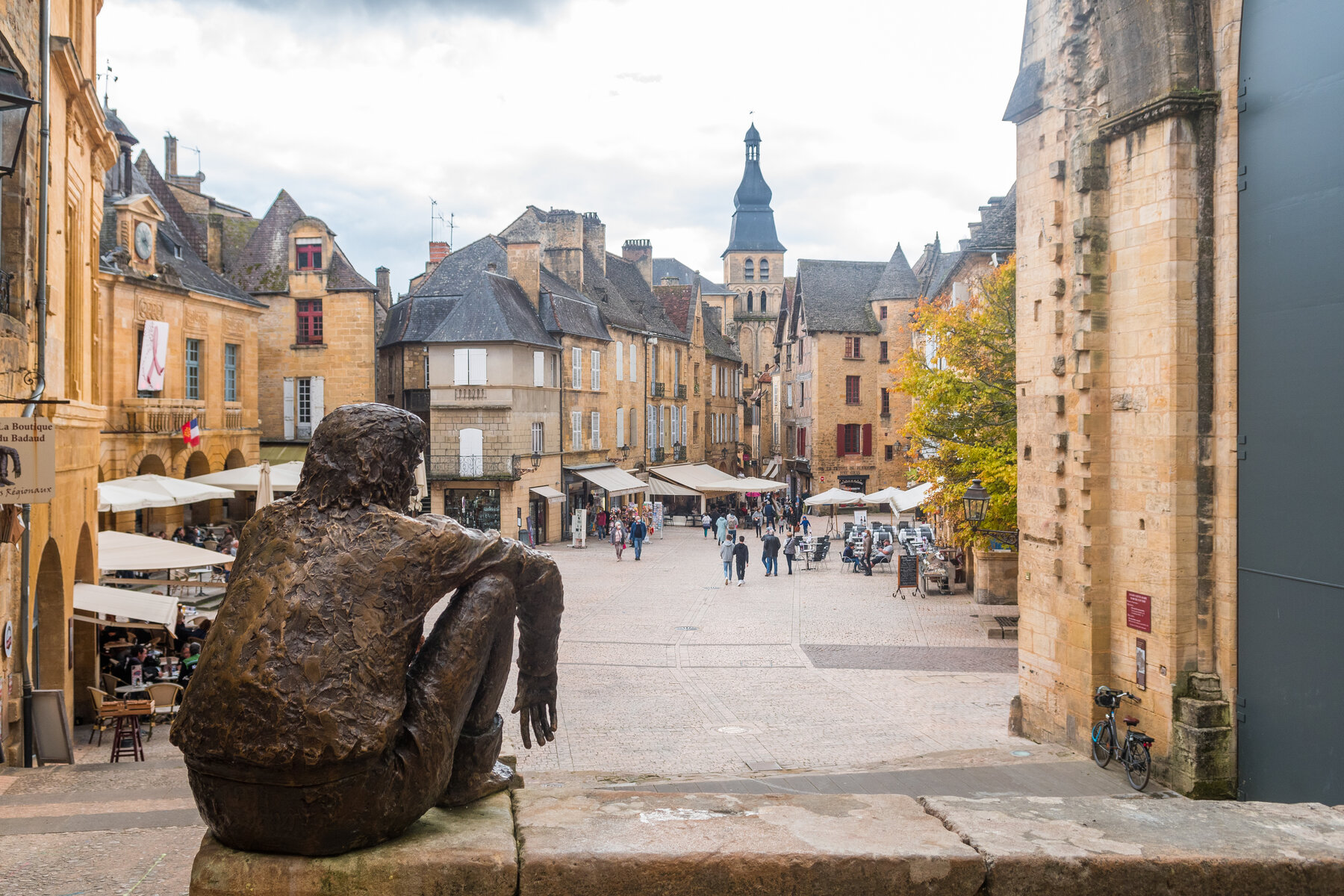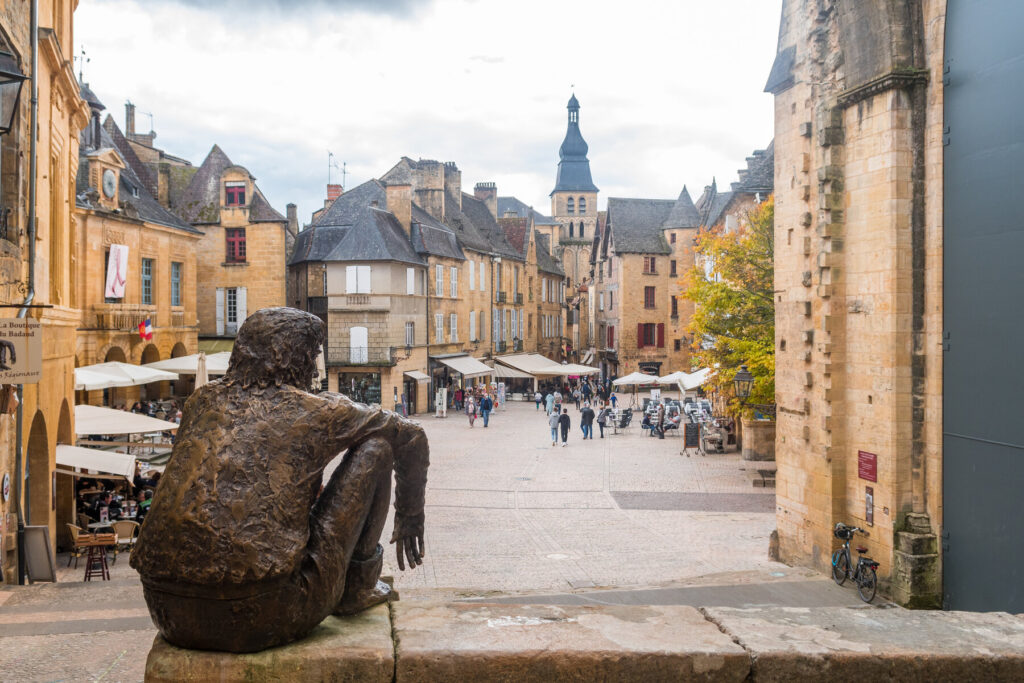 The north end of the square is framed by the carcass of the church of Ste-Marie and a massive bell tower, completed in 1507. After being used to store saltpetre during the Revolution, it was sold for a pittance to a speculator, who lopped off its chancel and converted its chapels into shops; now it houses a covered market – with 15m-high doors designed by Jean Nouvel and a secret panoramic lift waiting to take you 45m up for views over Sarlat's roofs.
Cathédrale St-Sacerdos
This church with impressive flying buttresses and garlic bulb steeple replaces the old abbey church founded by Clovis – of which only the much-restored 12th-century Chapelle des Pénitents Bleus in Cour des Fontaines survives. The cathedral had to be reconsecrated in 1273, after a disgruntled monk with a crossbow shot the abbot while he was saying Mass. In 1504, Bishop Armand de Gontaut-Biron demolished this version (except for its Romanesque clocher-porche) in order to construct something grander. Unfortunately, it took until the dull 17th century to complete and holds nothing as fine as the bishop's own tomb at Biron.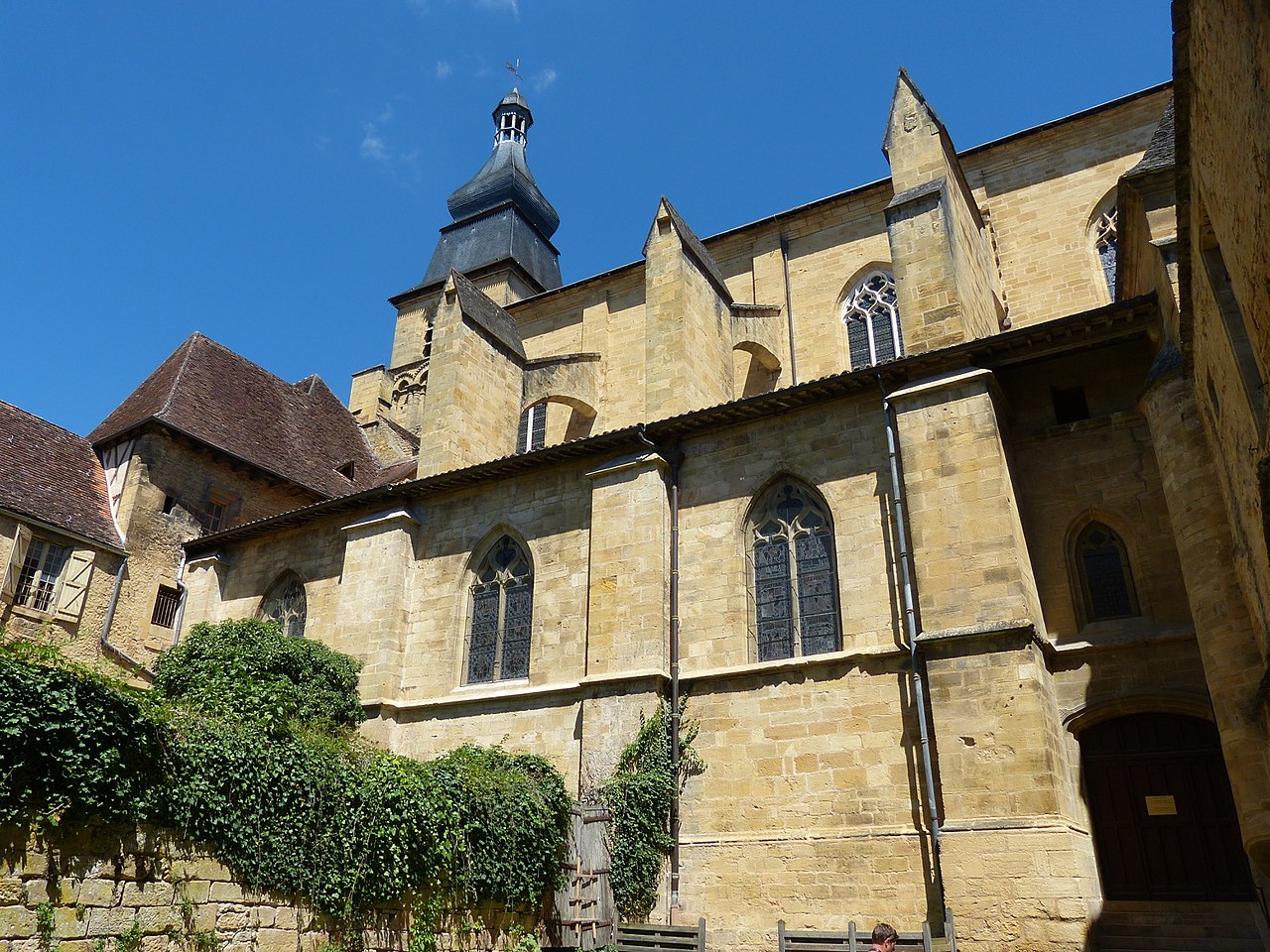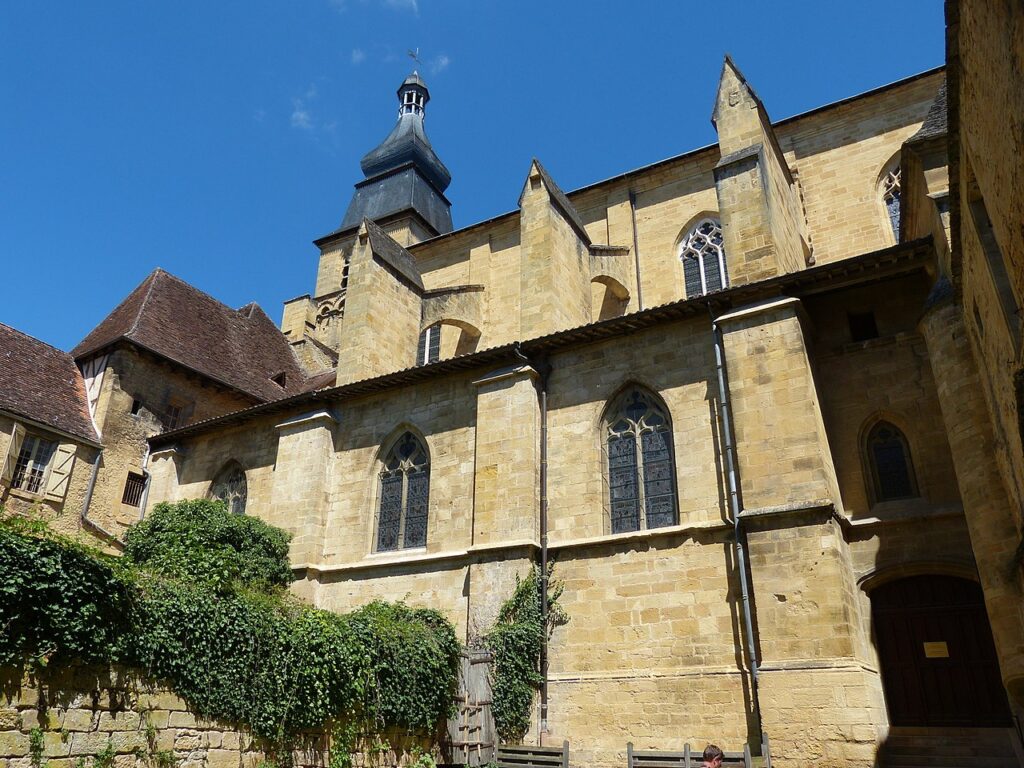 Adjacent to the cathedral, the former bishopric or Ancien Évêché (now the tourist office), has a handsome top-floor gallery in brick that looks as if it escaped from Italy – not surprising, as it was built by a cousin of Catherine de' Medici, Cardinal Niccolò Gaddi, who added Bishop of Sarlat to his titles in 1533.
Hôtel de la Boétie
Opposite the cathedral in Place du Peyrou stands the most lavishly ornate town house in Sarlat (1525). The modern entrance is through the wide round arch of a former shop; richly ornamented mullioned windows dominate the upper three floors, squeezed between a vertiginously steep gable. The decoration reaches a curlicue frenzy in the dormer window, in frilly contrast with the sombre black lauzes of the roof.
The hôtel particulier was built by the father of the precocious humanist poet Étienne de la Boétie, who was born here in 1530. A student of the classics, Étienne was only 18 when he wrote his Discours de la servitude volontaire, asking why people willingly give up their liberty to support tyrants, when tyrants could never exist without people willing to give up their freedom, the most precious thing of all. Instead he suggested 'voluntary servitude' – obey the State or Church, pretend to believe what they say to believe from prudence (or, in those days, survival). Your mind, said La Boétie, belongs to you.
La Lanterne des Morts
Behind the cathedral, the Benedictine cemetery, the Jardin des Enfeus, consists of 12th–15th-century tombstones excavated and arranged on terraces. Above looms a giant stone bullet of a tower, the largest of several 'Lanterns of the Dead' in these parts – they can be found all over France, but most thickly in Aquitaine and all date from the 1100s.
A lanterne is round and sometimes square, with at least three small windows near the top. In the old days, it's said a light would be hoisted up on a pulley to shine through the slits. Most, like this one, are found in cemeteries, although they are sometimes built into churches; the strange cupola on Périgueux's St-Front may be one.
Beyond hints from folklore, we have no idea what purpose they served, but we can guess that it's something genuinely old and strange, perhaps a survival of the old Celtic religion – the tower with small windows at the top is a form reminiscent of the cella in a Gallo-Roman temple. Were they lighthouses, guiding the souls of the dead? A fascinating thing about Sarlat's Lanterne des Morts is its upper chamber. It's sealed off, completely, mysteriously inaccessible, and no-one alive knows what's inside.
Travel to Sarlat
Regional trains from Bordeaux arrive at the station (Av de la Gare), 15 minutes south of the centre. Buses run to Périgueux via Montignac and Les Eyzies, and to Souillac, timed to match the Paris trains.