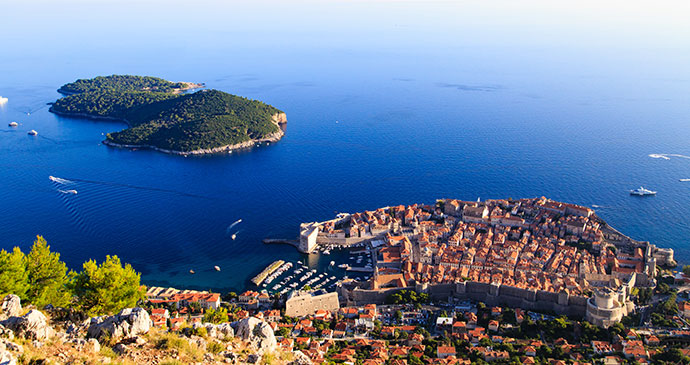 The UNESCO-listed walled city of Dubrovnik, just a short boat ride from the haven of Lokrum © Nadezhda1906, Shutterstock
Dubrovnik is an extraordinary place, with vast walls which encircle an incredible stone-built red-roofed city jutting out into the clearest, cleanest blue-green waters of the Adriatic.
The biggest draw in Southern Dalmatia is the extraordinary walled city of Dubrovnik. Vast walls, up to 25m high, come complete with fortresses, towers, crenellations and an ancient footpath along the entire 2km extent. The streets are paved with time-polished pale marble, with the town's harmony owing as much to the 17th-century rebuilding programme following the Great Earthquake in 1667 as it does to Dubrovnik's remarkable history, stretching back well over 1,000 years.
Of course Byron's 'Pearl of the Adriatic' is no secret, with nearly half a million people a year staying at least one night, and even more coming in for the day on 440-odd foreign cruise ships every year. Nevertheless the city copes admirably with the influxes, and you'll find a place full of cheerful cafés, bars and restaurants, wonderful architecture, intriguing museums, atmospheric churches and a world-famous summer festival. The entire old city is a UNESCO World Heritage Site.
As if that weren't enough, Dubrovnik is blessed with an especially kind climate. Winter daily maximums rarely fall below 12°C, the sun shines reliably right through the summer, and there are plenty of beaches, with swimming popular from May to October. The city even has its own perfect forested island, Lokrum, just a few hundred metres offshore.