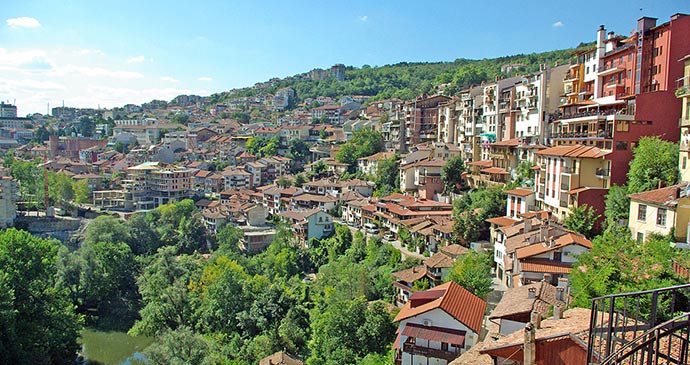 © Bulgaria Ministry of Tourism
The former Bulgarian capital has a spectacular riverside location on high cli ffs, and hosts many important buildings from the country's long history.
Veliko Turnovo was the capital of Bulgaria during its period of medieval greatness (12th–14th century – Second Bulgarian Kingdom). After 500 years of subjugation under the Ottoman Empire, Veliko Turnovo was, symbolically, chosen in 1879 as the location for the meeting of the Grand National Assembly, which drew up the constitution of the newly liberated state.
Veliko Turnovo is probably the most picturesque Bulgarian city, its houses seemingly stacked up on the high banks of the sinuous River Yantra. In medieval times it was seen as second only to Constantinople in splendour, and it became a flourishing city again during the 19th-century National Revival. It is set on three hills round which the river curves and loops. Each house is perched vertiginously on a precipice, some houses actually needing to be entered through the house below them. Every building has successfully overcome major architectural problems. It is possible to walk along an alley with buildings towering above you on one side and an aerial view of a church belfry on the other. There are tantalising glimpses across to the Tsarevets and Trapezitsa hills, and wonderful views across the river to the wooded hillsides which surround the city. It is worth going down to the riverbank in the evening; here frogs croak out their courtship songs, and the houses and lights are reflected in the water. From a distance the whole improbable structure of the city looks as if it is bound together only by the fragile lacework of vines, roses and geraniums which seem to grow on, up and over the houses.