A pocket-sized capital with iconic gold-domed churches, layers of ancient history, fine museums, a yellow-brick road and even its own mountain.
Sofia has the buzz of a capital city and the convenience of a compact centre where all the main sights can be visited on foot. For those averse to map-reading, a simple rule of thumb is to follow the yellow brick road!
The city has a good selection of museums, religious buildings of several faiths and in many styles, from the ancient and unassuming Sv Sofia to the iconic Sv Aleksandur Nevski, and numerous good restaurants, cafés and bars. It has a UNESCO World Heritage Site, Boyana Church, and its own mountain, Vitosha, right on the edge of the city, providing skiing in winter and wonderful walks, flowers, birds and fresh, cool air in summer.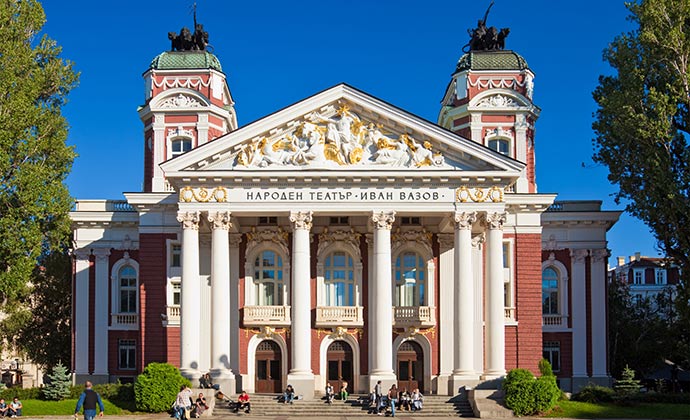 Sofia's beautiful Ivan Vazov National Theatre © Nickolay Stanev, Shutterstock
It has only been Bulgaria's capital since 1879 so its main boulevards are from the late 19th century, but in among them are some older sites: the Neolithic settlement at Slatina; the Roman rotunda of Sv Georgi and several newly excavated Roman buildings discovered during the construction of the metro; and the sunken Church of Sv Petka Samardzhiiska, which was built in Ottoman times. There are several monuments and buildings reflecting Bulgaria's long and close relationship with Russia: the fine statue of Tsar Alexander II the Liberator, the Russian Church of Sv Nikolai and the Sv Aleksandur Nevski Memorial Church, for example. There is a mosque and a synagogue; indeed in the central pl Sv Nedelya you can see the Orthodox Church, the Banya Bashi Mosque, the newly built Catholic Cathedral of St Joseph and the Synagogue within a few hundred metres of each other.
Sofia in the 21st century has a real energy and a feeling of being a city that is on the up. It is also a rather relaxed city, especially in summer, when people-watching while strolling and sitting at pavement cafés are favourite evening occupations. However, there's plenty of culture available too: affordable opera, classical music and theatre (if your Bulgarian is good enough!). Bars, clubs and a wealth of excellent restaurants make spending a few, or indeed many, days in Sofia a pleasure.