Bulgaria's finest monastery lies behind fortress walls; its church's frescoes are an explosion of colour, in contrast to the dark pine forests nearby.
The first sight of the monastery's towering exterior gives the impression of a fortress; in the past this security was necessary, as the wealth of the monastery attracted bandits and robbers, though its remote situation in the mountains and its altitude, 1,150m, helped to protect it. The founder, Ivan Rilski (880–946), was a hermit who sought enlightenment in the solitude of this place, but his reputation as a wise man with healing powers generated followers. In response to their requests he founded a religious community, which soon became a place of pilgrimage for people from all over the Balkans.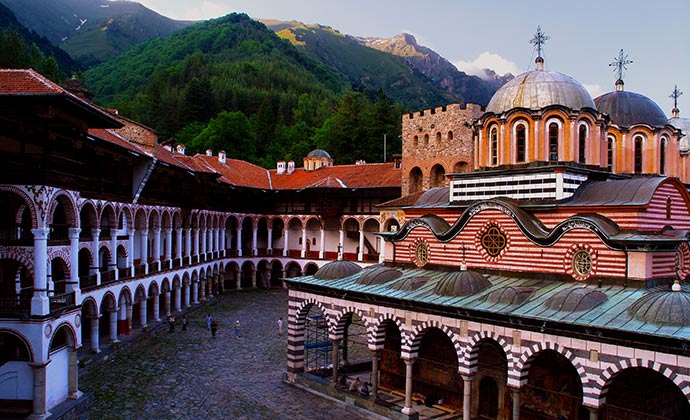 Bulgaria's finest monastery has a wonderful setting within the Rila Mountains © Bulgaria Ministry of Tourism
Rila was refounded in 1335, a few kilometres southwest of the original hermitage, under the patronage of the bolyar, Stefan Hrelyo Dragovol. The oldest of the buildings visible today, Hrelyo's Tower, was built then. It is five storeys high, and would originally have been a lookout point. At the top there is a small chapel, with vestiges of frescoes. There was damage and destruction to the monastery during the Ottoman conquest and the subsequent occupation, but after each setback renovation soon began again. The return of the relics of the founder Ivan Rilski from Veliko Turnovo in 1469 was a significant event for the growing importance of the monastery.
Passing through the huge gates of the monastery for the first time is one of life's special moments: the scene changes from grey severity to a carnival of colour. All round the enormous courtyard are tiers of monks' cells behind boldly decorated, arcaded balconies. In the centre, the church itself, with richly coloured frescoes in the shelter of its porch, is the focus of attention, its lavishness emphasised by the simplicity of the 14th-century tower alongside it.
The temptation to conclude the visual feast by going straight into the Church of the Nativity of the Virgin Mary should not be resisted. The iconostasis is a splendid mass of intricate carvings, heavily decorated with gold leaf. It is made of walnut wood and its subjects are from nature: flowers, fruits and birds. The pulpit and bishop's throne echo its magnificence and the colours are repeated and strengthened in the frescoes covering every available wall, ceiling and arch. Zahari Zograf, perhaps Bulgaria's most famous mural painter, was one of the artists who worked here. The theme of the frescoes is the triumph of good over evil and light over darkness. The mood is optimistic and the colours light. The external frescoes have particularly lively depictions of the seven deadly sins and the descent of their perpetrators into hell.