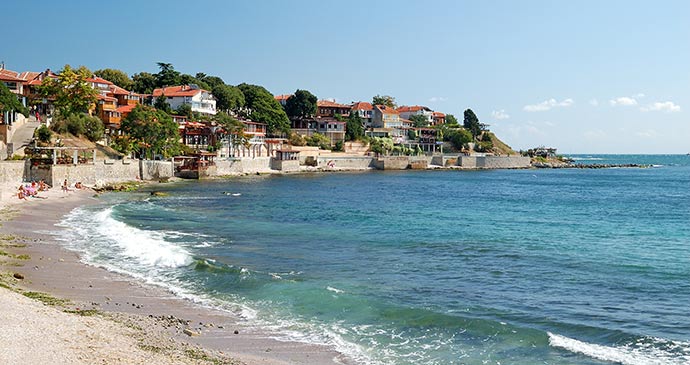 Nesebur Beach © windu, Shutterstock
The beauty of Nesebur is threatened by its proximity to Sunny Beach. In high season it is very busy, and stalls, cafés and restaurants vie for the visitor's attention. Yet even then actually, if you walk away from the centre, it is still just possible to get a feel for this little peninsula as it once was. This small space was home to as many as 40 churches constructed between the 5th and 17th centuries, many of which remain in part or whole.
Situated on a picturesque peninsula, this coastal resort also has a wealth of Byzantine churches.
It is one of the oldest settlements in Europe, with traces of Thracian settlement in the 2nd millennium BC. During the time of ancient Greece it was known as Mesembria, and was part of the Roman Empire in the 4th to 6th centuries. It retained this name until about the 11th century. Then, as Nesebur, it changed hands many times between the Byzantine and Bulgarian empires in the 12th and 13th centuries, but in the 14th, when it remained Bulgarian, it flourished, and many of its most interesting sites are from this time.