January
Mummers the word
Brighten your winter days at the Mummers' Festival in Pernik. Listen to the clamour of the huge bells strapped to the performers' bodies and admire the amazing homemade costumes representing goats, bulls, rams and cockerels. The mummers (kukeri) are all men who jump and dance to scare away evil spirits and express hopes for good health, a good harvest and happiness.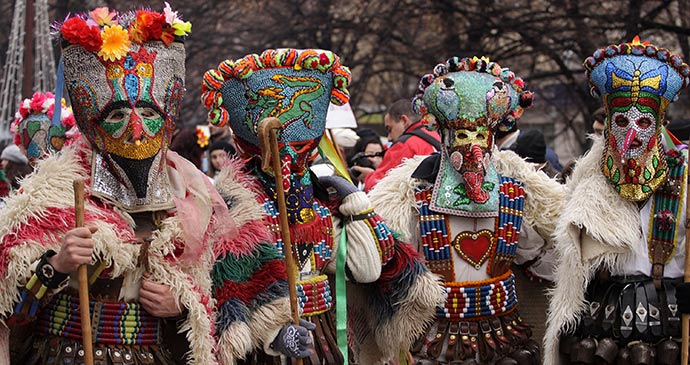 © djumandji, Shutterstock
February
Vines and valentines
Traditionally either 1 or 14 February is the day of Sv Trifon Zarezan, the patron saint of vine growers and wine-makers, marked with celebrations in the vineyards and a ceremonial first pruning of the vine. It involves, not surprisingly, the consumption of considerable amounts of wine. Then came a rival saint, Valentine, popular in western Europe but previously not widely known in Bulgaria, also celebrated on the 14th! So you can celebrate two saints in one. Nazdrave! (Cheers!)
March
Grumpy Granny
The weather in March can be either mild and sunny or severe and cold. According to Bulgarian folklore, only an old woman could be so changeable, and that is why March is known in Bulgaria as 'Granny March'. On the first of the month, Bulgarians give each other red and white martenitsi (twisted threads) with the greeting 'Chestita Baba Marta!' (Happy Granny March!) They are worn until a returning migrant stork is seen.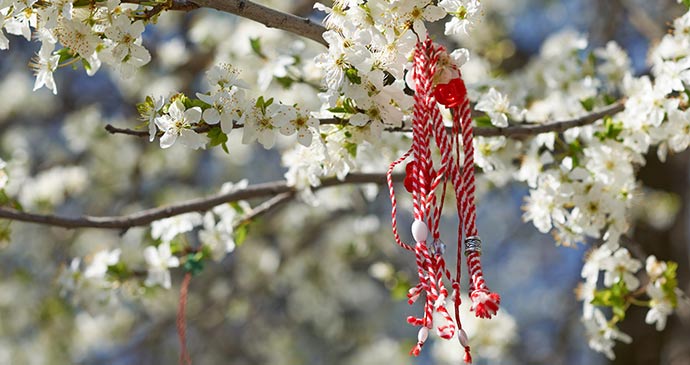 © Nikolay Dimitrov, Dreamstime
April
Easter
Orthodox Easter is the main religious festival of the year, and there are many folk traditions associated with it, observed in towns and cities as well as rural communities. One of the prettiest traditions is the giving of painted eggs. A sweet Easter bread, kozunak, is baked; you can buy it in shops, but homemade is best.
May
St George's Day (Gergyovden)
This is the most popular holiday, held on 6 May, and it represents the beginning of the farming year and is traditionally celebrated with a roast lamb dish. Sv Georgi is popular and the patron saint of the Bulgarian army. Georgi is also a common Christian name, meaning that it is also the name day of many people – another cause for celebration. Visit any restaurant and join in with the festivities!
June
Rose Festival
The famous Bulgarian roses produce most of the world's attar or rose oil, which is used by many of the most prestigious perfume makers. Head to Kazanlak or Karlovo during the first weekend in June when the Rose Festival takes place. Participants can pick some roses, fashion their own garlands, drink rose liqueur and join street-long horo dances. Although those who do the serious harvesting wear work clothes, there are many people 'helping' who wear national dress, presenting countless colourful photo opportunities.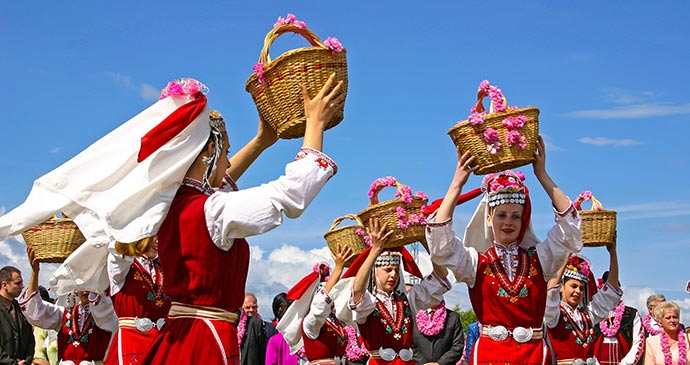 © Todor Yankov, Dreamstime
July
Sun and sand on the Black Sea Coast
This is the best month to kick back and relax on the beach. If you want lively nightlife, a huge choice of watersports or a 24-hour lifestyle, the big resorts of Sunny Beach and Golden Sands should be your destination. If you want a quiet time, choose the far north or far south of the Black Sea Coast, where there are still deserted beaches to be found.
August
Festival time
This is a popular month for all kinds of festivals: folk singing, dancing, bagpipes, and even milk! On 15 August, churches across the country celebrate the Virgin Mary, with parades and picnics. At the end of the month, the Apollonia Arts Festival opens in Sozopol, where classical and jazz music, theatre, poetry and literature are on offer to an international audience.
September
Time to go: bird migration
The end of summer is signalled along the coast by the tremendous visual spectacle of tens of thousands of birds following the Via Pontica migration route to the south. Their departure is soon followed, though usually in the opposite direction, by the tourists heading north and back to work.
October
Special-interest tours
For many this is a wonderful time of year for cultural travel, as the weather is usually still warm, but no longer hot, meaning that walking up to historic castles or around archaeological sites is not so tiring. If you are interested in wine tours, this is the month of the vintage, so a visit to a winery will be very exciting and busy.
November
Jazz in Sofia
Head to Sofia for gorgeous autumn evenings, with a prevailing appetising smell of roasting peppers, brightly lit cosy restaurants, some with open fires, where you can enjoy seasonal specialities. After dinner you will find a choice of jazz clubs and concert halls to entertain you.
December
Christmas shopping
Consider a weekend or even a week for a winter break in Sofia. For Christmas shopping, there is a huge selection of retail outlets, some with familiar brands though often at cheaper prices, but there are also many shops for clothes, crafts and art, beautifully made and locally produced, where you can find unique presents. The atmosphere is merry, assisted perhaps by the mulled wine and hot rakiya with honey and herbs on sale in the markets and streets.