Climate
Slovakia's climate is temperate with warm, wet summers and cold, hard winters. Bratislava is located in a mild climatic zone of continental nature, characterised by wide differences between temperatures in summer and winter and, until recently, by four distinct seasons. Average temperatures in Bratislava for winter are -1–4°C (30–40°F), spring and autumn 9–21°C (49–69°F) and summer 24–26°C (75–79°F), although over the last decade spring and autumn have merged into the more dramatic seasons, meaning that spring, usually a delightful season in the Old Town, has sadly almost disappeared.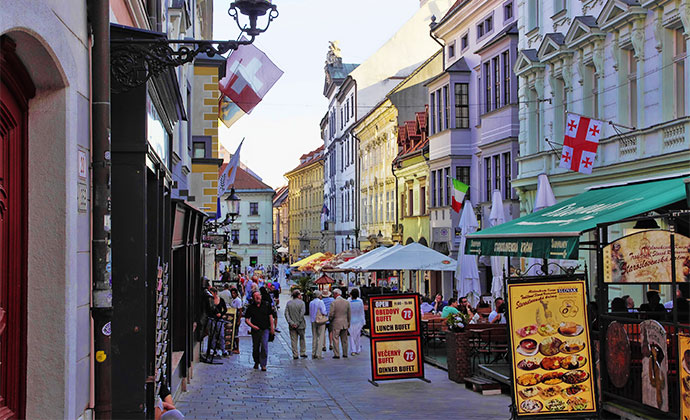 The average annual temperature in the Bratislava region has risen by almost 2°C since 1951 and will keep increasing, bringing hotter, drier summers. Snow cover on the mountains in the north is less than it has been in the past. The lowest annual temperature is in the mountains at Lomnický štít (peak) (-3.7°C). The warmest zone is the Podunajská Lowland (10.3°C). For more information before you set off, ie: on whether to pack an extra jumper, click here.
When to visit
Slovakia achieved independence only in 1993 and, as one of Europe's youngest capitals, Bratislava is also one of its most progressive. There's never been a better time to visit.
It takes only 2½ hours to fly there from London, while on the ground it is an hour from Vienna, two from Budapest and three from Prague. The 'little big city' is a strategic hot-spot with a leisure industry to match.
Spring and summer in Bratislava can be really gorgeous. Come during April and you'll probably have the place to yourself, apart from the occasional stag party (easily identified and avoided by their matching T-shirts proudly announcing 'Gary's Gang' or 'Plastered in Blava'), but the weather can be glorious. At the end of the month, out come all the terrace tables and chairs outside the pubs, restaurants and cafés, turning the Old Town into 'one big open-air café'.
In the height of summer, the River Danube moderates the heat and there are many green spaces such as Devín and the Kamzík Hills to escape to, countless lakes to cool off in (the nearest being Zlaté Piesky, a tram-ride away), and scores of leafy squares.
The autumn colours are beautiful. There are many parks in town and it is still warm enough to sit outside a café and contemplate the historic scenery. Winter is also atmospheric, with the snow, the Christmas markets and the hills nearby if you want to ski or hike. Do bear in mind that some museums and castles such as Devín may be closed during this season, and shops and bars also have limited opening hours.
Events calendar
January
Ice skating on Hviezdoslav Square
Enjoy gliding across the ice in the stunningly beautiful setting of Hviezdoslavovo námestie, in front of the National Theatre's historic building. An ice rink appears in the square between November and March and it's an excellent way to entertain the little ones – or impress the locals with your Katarina Witt triple Salchows!
February
Modra Carnival
February is carnival month and Bratislava embraces this colourful tradition with gusto. On the first Saturday in February, there's a children's carnival parade through the Old Town with lots of opportunities for wine tasting and munching on local home-made sausages and doughnuts. At night, masquerade parties fill the historic centre and you can turn up with a mask or get your face painted on the spot. Other ways to cheer up February include a Winter Food Festival with the chance to sample delicacies from 40 restaurants throughout Slovakia. Fresh, seasonal produce grown by farmers and smallholders from the Bratislava region can be found every Saturday at the Old Market Hall (Stará Tržnica) on Námestie SNP.
March
ČSOB Bratislava Marathon
A highlight of the Bratislava sporting calendar is the marathon. In its 10-year history, it has become a fantastic sporting event as well as cultural event which, thanks to its rich, three-day programme, attracts more and more local as well as foreign visitors to the city.
A new project, the History Run, also started few years ago. This unique, 6km running route leads the runners through the city passing by some of the most eye-catching buildings; the Reduta concert hall, the historic Slovak National Theatre, the popular Čumil statue, the House of the Good Shepherd, the majestic St Martin's Cathedral as well as Bratislava Castle.
April
Easter
Experience Easter Slovak style at the special handicraft market stalls, which spring up like mushrooms in Hviezdoslavovo námestie & Františkánske námestie. Delightful, handcrafted items make lovely presents or souvenirs from your visit. Lots of little stalls offer painted eggs (kraslica), embroidered waistcoats from Úľuv, and traditional willow whips (korbáč), which tradition says, must be used to whip the bare legs of young ladies.
May
Embrace spring in Koliba-Kamzík hills
What better way to celebrate the warmer spring weather than with a hike up in the hills and woods at Koliba-Kamzík. Ride the rattly 203 trolleybus to the terminus and walk up through the woods, listening to the birds chirruping as you go. Treat yourself to a meal or a coffee and snack at Altitude – this restaurant, perched high at the top of the TV tower, revolves slowly around the inner core of the tower, giving diners a panoramic view of Slovakia, the Danube, as well as – on a clear day – Austria and Hungary. Try the summer bobsleigh run, sip refreshing Czech cola, Kofola, at a summer log cabin, or ride the chair lift down to a gorgeous flower-filled meadow at Železná Studienka.
June
Coronation Celebrations
The steamy days of June play host to the Coronation Celebrations in the heart of Bratislava's Old Town. This annual event introduces visitors & locals to the rituals of the coronation of 19 kings and queens in Bratislava. Visitors drink wine from the fountain, shout 'Vivat rex!' (Long live the king!), feast on an ox roast and dance in the streets. Actors in period costumes take solemn vows before making a regal procession through the Old Town, and celebrations end with the dubbing of knights and much merrymaking.
July
Castle Festivities of Bratislava
Throughout July, the Castle Festivities of Bratislava bring an international festival of arts and culture to the main courtyard of the Bratislava Castle. The historic courtyard is the setting for a series of concerts, classical and contemporary music. For culture vultures, there are also Organ Music Days, a summer Shakespeare theatre and many other performances.
August
Bratislava Beach
Bratislava may be landlocked, but that doesn't stop Slovaks from enjoying the pleasures of summer on the beach. From June to September, the right bank of the Danube in Sad Janko Kráľa is filled with sporting activities such as beach volleyball and beach tennis. There's a sandy beach to stretch out on and little stalls offering drinks and snacks, including a fresh fruit market. There is also free Wi-Fi to avoid any digital detox and in the evenings, live music concerts and an open-air cinema entertains the crowds on long, hot summer nights.
September
Time for a tipple
Slovakia is not well-known for its wines, so now's your chance to pick up some vintage brews before the crowds discover the delicious grape juices. At the Rača Vintage Festival, just outside Bratislava on the Small Carpathian Wine Route, a celebration of wine offers the chance to witness grape processing and pressing – and best of all, there are many tastings.
October
Explore Devín
Take a 28/29 bus along the banks the Danube to Devín Castle, and walk in the autumnal colours. Situated at the confluence of the Danube and Morava rivers, Devín is a lovely spot for a picnic, a hike, a cycle ride, or you can even try horseriding. The impressive ruins of Devín Castle rise up on a 212m crag overlooking the rivers and a museum offers respite from the occasional rain shower.
November
Take cover in the Old Town's cafés
Warm up with one of the new, luxury hot chocolate concoctions at a trendy, cosy bistro-café such as Mondieu (check out the gushing chocolate fountain), Štúr, Bistro St Germain or Štefanka Cafe. Bratislava is packed with cafés, bars, bistros, restaurants, pubs and clubs – you'll certainly never go hungry! Out in the snow-filled pedestrian streets, little mobile stalls offer fashionable coffee combinations and hot, roasted chestnuts.
December
Bratislava Christmas market
With its beautifully renovated and totally pedestrianised Old Town centre, Bratislava Christmas market is perfect for tottering around after one too many mulled wines (to keep out the cold, of course) without fear of being mown down by a Skoda, careening across the icy roads. It takes place from 20 November to 22 December in the twin main squares of the Old Town – Hlavne námestie and Františkánske námestie right in front of the Municipal Museum – and also on the graceful tree-lined square of Hviezdoslavovo námestie a few steps away.
In December, the squares are packed with wooden booths offering Christmas gifts, ornaments and a wide variety of festive food and drink. Dishes to try include lokše (potato pancakes) available with a choice of fillings, grilled meats such as cigánská pečienka (Gypsy cutlet), langoše (deep-fried doughnuts) or chlieb s masťou (fresh bread smeared with lard and sprinkled with chopped onions), ideal for accompanying the mulled wine or the special Christmas punch drink.