Enjoy a coffee or cocktail and check out the spectacular view from the platform above.
The UFO hovers 80m above the Most SNP (Slovenské národné povstanie or Bridge of the Slovak National Uprising) and offers an unparalleled view of the city. The bridge and UFO were built in 1967–72 and declared 'Building of the Century' in Slovakia in 2001. The asymmetrical structure has a main span length of 303m, and the unique attraction is the flying-saucer-shaped object housing a restaurant, bar and lookout platform above.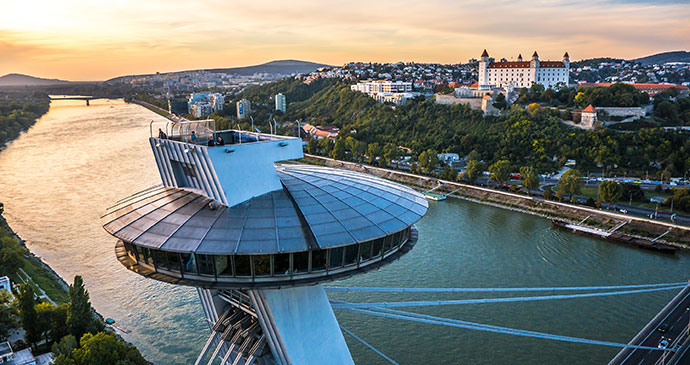 The UFO restaurant, previously called Bystrica, perches on top of the bridge's 84.6m sloping pylon. The viewing platform above the restaurant offers stunning views over the Danube, the Old Town and the Petržalka district. The east pillar has a lift, while the west pillar houses an emergency staircase with 430 steps.