Getting there and away
Getting around
Visas
In 2007, Slovakia joined the then 15-member Schengen Zone, abolishing border controls among participating countries. After entering the Schengen Zone, visitors may travel throughout the now 28-member zone without any other passport or visa control; however, they must be able to prove their visa status on request.
Slovakia now has only five actual border posts (with Ukraine) and three air borders, at Bratislava, Košice and Poprad airports.
All visitors to Slovakia need a valid passport for the duration of their stay in the country or, if a visa is required, visitors must present a passport with more than three months left till the date of expiry. Citizens from EU member countries and Switzerland can enter Slovakia with just a valid national identity card (where the country concerned issues such cards).
British nationals may visit Slovakia with a valid passport for a period of up to 180 days, while the other EU countries' citizens may stay in the country for up to 90 days. Nationals from 40 countries worldwide, including Australia, Brazil, Canada, Croatia, Israel, Japan, Malaysia, Mexico, South Korea, Malaysia, New Zealand and the USA, may also stay in Slovakia with a valid passport for up to 90 days out of any 180-day period. After the UK leaves the European Union, documentation requirements for UK citizens may change. Check before travelling.
Nationals from all other countries require a visa and should contact the Embassy of the Slovak Republic in their home country before setting off. Click here for details of current visa requirements.
Getting there and away
By air
Travellers to Bratislava are lucky as they have a choice of two airports – Bratislava and Vienna Schwechat (only 61km away) – giving more variety of route, cost, timing and budget flight possibilities. Ticket prices will be higher during peak summer season (June–August) and at Christmas and New Year.
Discount travel websites such as Cheapflights, Expedia and lastminute.com can offer bargain flights.
By train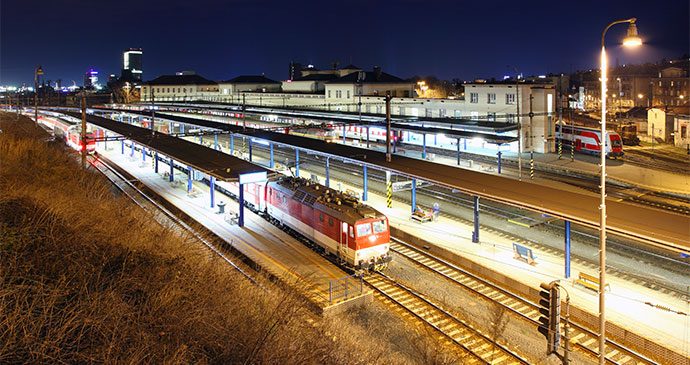 The main railway station is very traveller-friendly with signs and announcements in Slovak and English © TTstudio, Shutterstock
If you don't fancy flying, or want to stop off en route, try the train. First cross the Channel by Eurostar to Brussels, take the high-speed Thalys to Köln (Cologne), then the Nightjet sleeper to Wien (Vienna). Slovak State Railways and The Man in Seat 61 have information in English about train connections. You'll arrive at Bratislava's bustling main station, Hlavná stanica.
By bus
It is possible to travel to Bratislava by bus/coach from all major European cities; Eurolines is the most widely used company.
Bratislava's main bus station is at Mlynské nivy 31. It's a 15-minute walk from the bus station to the Old Town centre, but too far to walk with luggage. Taxis will whisk you into town, or take trolleybus 202 or 208 to Hodžovo námestie, trolleybus 210 to the main railway station or bus 50 to Most SNP. The bus station was closed at the time of writing for redevelopment until 2020, but a more than adequate substitute (with free toilets) has been provided across the road to the south.
The national bus company, Slovak Lines, offers tickets, travelcards and timetables, for destinations within Slovakia. RegioJet, Slovak Lines and Flixbus run buses roughly hourly via Vienna Airport to central Vienna (from £6 in advance). In addition, FlixBus and RegioJet both run twice a day to Budapest city and airport (4hrs).
By car
It is about 1,500km by road from London to Bratislava and the journey would take at least 17 hours. The route, once on the continent, goes via Brussels, Aachen, Köln (Cologne), Frankfurt and Linz.
You need to buy an e-vignette to use Slovak motorways (from €10 for ten days; windscreen stickers are no longer used). You'll also need a vignette to cross Austria (€9.20) – best bought from a service station as you approach the border.
By boat
International connections from Austria and Hungary are possible on the Danube, which also carries passing barges and cruises heading for the Rhine, the Main and the Black Sea. Two companies, LOD and Twin City Liner, offer high-speed river services between Vienna and Bratislava, one leaving Vienna in the morning and one leaving Bratislava in the morning, for those planning a day trip.
Getting around
The transport system is impressively well organised with buses, trams, trolleys and trains all linked up in the new Bratislava Integrated Transport (BID) system, with a unified zonal fare structure. Vehicles are comfortable and clean, real-time information is displayed at stops (although services generally run on time) and prices are low. On all methods of transport, most stops are request only, so you'll probably need to ring the bell to get off. The Bratislava Transport Company website can be found here, but for timetables and a route planner in English, plus a brief history of the city's transport, you're best off clicking here.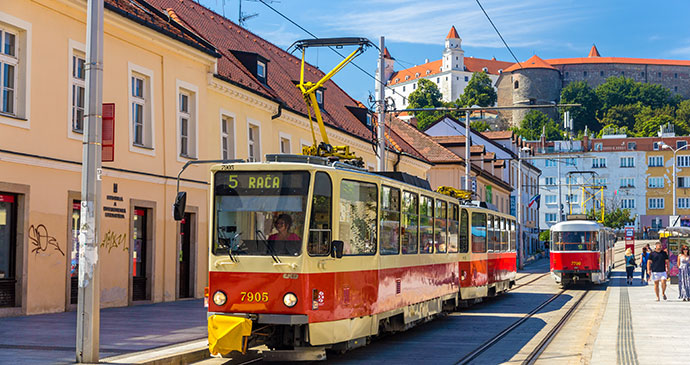 On trams, trolleybuses and buses, it is expected that young people and men will stand up and give their seat to an elderly traveller or pregnant woman © Leonid Andronov, Shutterstock
Trams
There are nine tram routes running all around town, numbered 1–9. The trams generally run between 05.00 and 23.00 (route 7 only runs 06.00–09.00 Mon–Fri).
Buses
There are 64 bus routes, numbered 20–196 (with numerous missing numbers), one express bus (the X72 east to Ružinov) and 20 night-bus routes (see below). Buses run generally between 05.00 and 23.30 and all link up well with the trams and trolleys, and services run on time. Probably the bus route you will use the most is the 29 (plus 129 at weekends) to Devín.
There are 20 night buses, numbered from N21 to N99, with a lot of missing numbers. Buses run between 23.00 and 03.30 and link the city centre, the main railway station and many of the outer suburbs such as Rača, Čunovo and Devínska Nová Ves. Hodžovo námestie, with the president's Grassalkovich Palace on one side and the Crowne Plaza Hotel on the other, is something of a night-bus hub, with eight routes meeting here. The most useful are the N33, which runs from the main railway station through the town and west by the river; the N61, from the station through the centre to the airport; and the N93, from the station through town to Petržalka.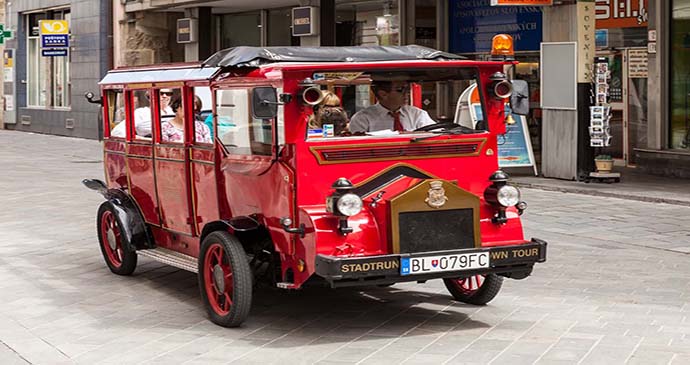 The Prešporáčik little red 'trains' chug around the Old Town and up to the castle from spring to autumn © DeymosHR, Shutterstock
Trolleybuses
There are 13 trolleybus routes, numbered from 201 to 212 (at the time this guide went to print there was no number 206), plus 33 and 64 (which use a diesel engine off the wires), running mostly in the hills and northern parts of town. Trolleys run generally between 04.00 and 23.00 and can also go around in a loop and come back on a different route from the way you went.
Bike
Bratislava is gripped by a cycling craze with new cycle routes appearing regularly and trendy bike shops popping up around town. The new Slovnaft Bajk bike-sharing system is very popular and easy to sign up to. In fact, the Old Town, once a haven for pedestrians and tiddly, tottering stags, is now much more hectic with silent bikes and Segways whooshing past.
Both banks of the Danube have cycle routes and it is possible to cycle to Devín. However, the direct road along the river is busy and narrow in places (and cycle lanes can't be added because it's a protected area) – you might prefer the hilly tracks through the forest inland or to take a train to Devínska Nová Ves and cycle south from there along the excellent Morava Valley route. There's also the Stefanikova Cyklomagistrala, a ridge route along the hills north from Kamzík.
Taxis
Some say local taxi drivers are a brat pack, who rip off foreigners at every possible occasion. There may be some truth in this at the airport and main rail and bus stations, but mostly the drivers are courteous, extremely friendly and helpful. App-based services such as Uber have been permitted in Bratislava since April 2019. Taxis around the city should cost €6–12, while from the city to the airport it is €20–25. From the city to Vienna Airport costs €60–65.
Car hire
As the city centre is car-free and the public transport system is excellent, you only really need to hire a car if you're looking to explore the surrounding region, or visit Košice. Slovak car-hire agencies are substantially cheaper than those of Western firms, ranging from €23 to €50 per day, and the process is marked by much less red tape. There are many car-hire companies at M R Štefánik Airport.