The spectacular St Martin's Cathedral has seen many coronations throughout its busy history and retains a quiet dignity.
Construction of this triple-naved church lasted from 1311 to 1452. Between 1563 and 1830 it was the coronation church for the kings of Hungary and witnessed the crowning of 11 Hungarian kings and eight royal spouses. The tower is 85m tall, topped with a 150kg gilded model of the crown of Szent István (St Stephen), the first king of Hungary (in AD1000).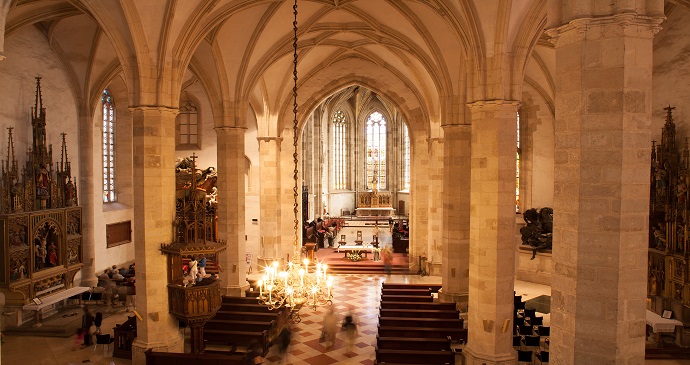 The late Gothic vaulting is by Hans Puchspaum under direct influence of master masons from Vienna. In 1728 the Archbishop of Esztergom, Emeric Esterházy, invited a famous Austrian sculptor, Georg Rafael Donner, to Bratislava to establish a workshop and he stayed 11 years creating many masterpieces for the city.
From 1732 to 1734 he built the chapel of St John the Almsgiver, in the north aisle with the kneeling figure of the archbishop, and in 1734 he created a new high altar featuring a huge equestrian statue of St Martin and the Beggar, which now stands in the southeast corner of the nave of St Martin's Cathedral – the figure of St Martin was supposedly modelled on the archbishop and the beggar on Donner himself.
The first complete performance of Beethoven's Missa Solemnis took place here in 1830, and Franz Liszt conducted his Coronation Mass here in 1884.
From April to mid-November you can pay €2.50 to visit the Treasury; there are various fine religious objects on display, but you also get the view from the organ gallery at the west end.
More information about St Martin's Cathedral
Read more about St Martin's Cathedral and the rest of bratislava in the Bradt Guide: