This is a great green space to unwind by the river and get your breath back after shopping at the massive Aupark Shopping Centre.
South of the Danube, this park seems like the first choice for those seeking a patch of green. The park was created in the time of Maria Theresa, and the eponymous Janko Kráľ (1822–76) was a revolutionary poet who used to walk there. There are several restaurants in the park and features of interest such as a 14th-century Franciscan church tower that used to stand in the Old Town but was removed from the church and brought to the park in 1897.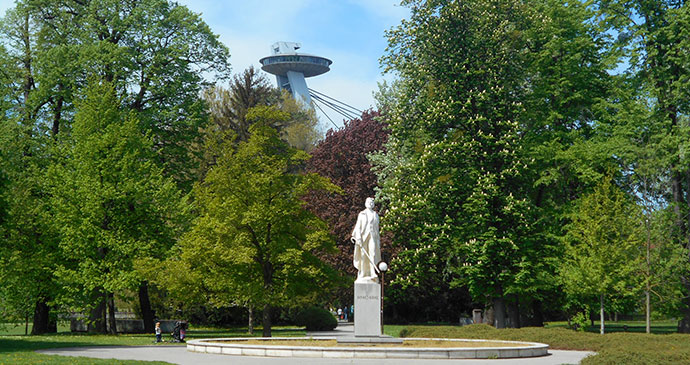 A plaque near the Einsteinova main road reveals that an 'anti-Napoleonic wall' stood here in 1809. The park is also decorated with 12 astrological star signs marked out along the circular pathway with a symbol and a collection of benches to have a rest on; it's fun trying to find your sign. The ground-breaking Aréna Theatre stands by the water near the Old Bridge. For mall rats, it's a pleasant stroll across the Most SNP and through this park to reach Aupark shopping centre.