Food
Slovak cuisine is a mélange of central European influences, taking a bit of everything from its neighbours: goulash from the Magyars, strudels from the Austrians, and home-kneaded dumplings from the Germans – not to mention beer from the Czechs.
Slovak chefs grew up in the meat, potato and cabbage school of cooking; however, it's easy to find something lighter in the many restaurants with international menus, offering cuisine from Italy to India, France to Vietnam. Many traditional Slovak restaurants also offer lighter versions of the sturdy, traditional dishes, and veganism is now widespread. Slovak cuisine is not as stodgy and bland as that in the Czech Republic and due to the culinary influence of southern neighbours, it has a perkier, spicier tang.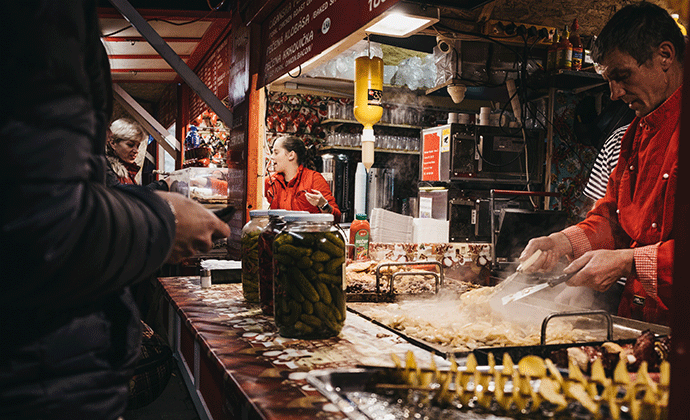 A hundred years ago, most Slovaks lived on and from the land and robust peasant cooking still dominates the national psyche. This is the land of cabbage, caraway seeds, cheese, wheat flour, potatoes and endless variations on the theme of pork. However, after a day cycling along the Small Carpathian Wine Route or visiting castle ruins, such hearty fare can be just the thing.
After 1,000 years under Hungarian domination and 40 years of communism, Slovakia's restaurant culture remains in its infancy, although in Bratislava they have caught on quickly with new, exciting restaurants opening every month. Many restaurants place copies of the menu by the front door on the outside wall, so you can get an idea of the food and the prices before you venture in. This is not compulsory, but because of a 'good local habit' to be helpful. It also gives restaurants the chance of showing their wares in the hope of tempting visitors to enter.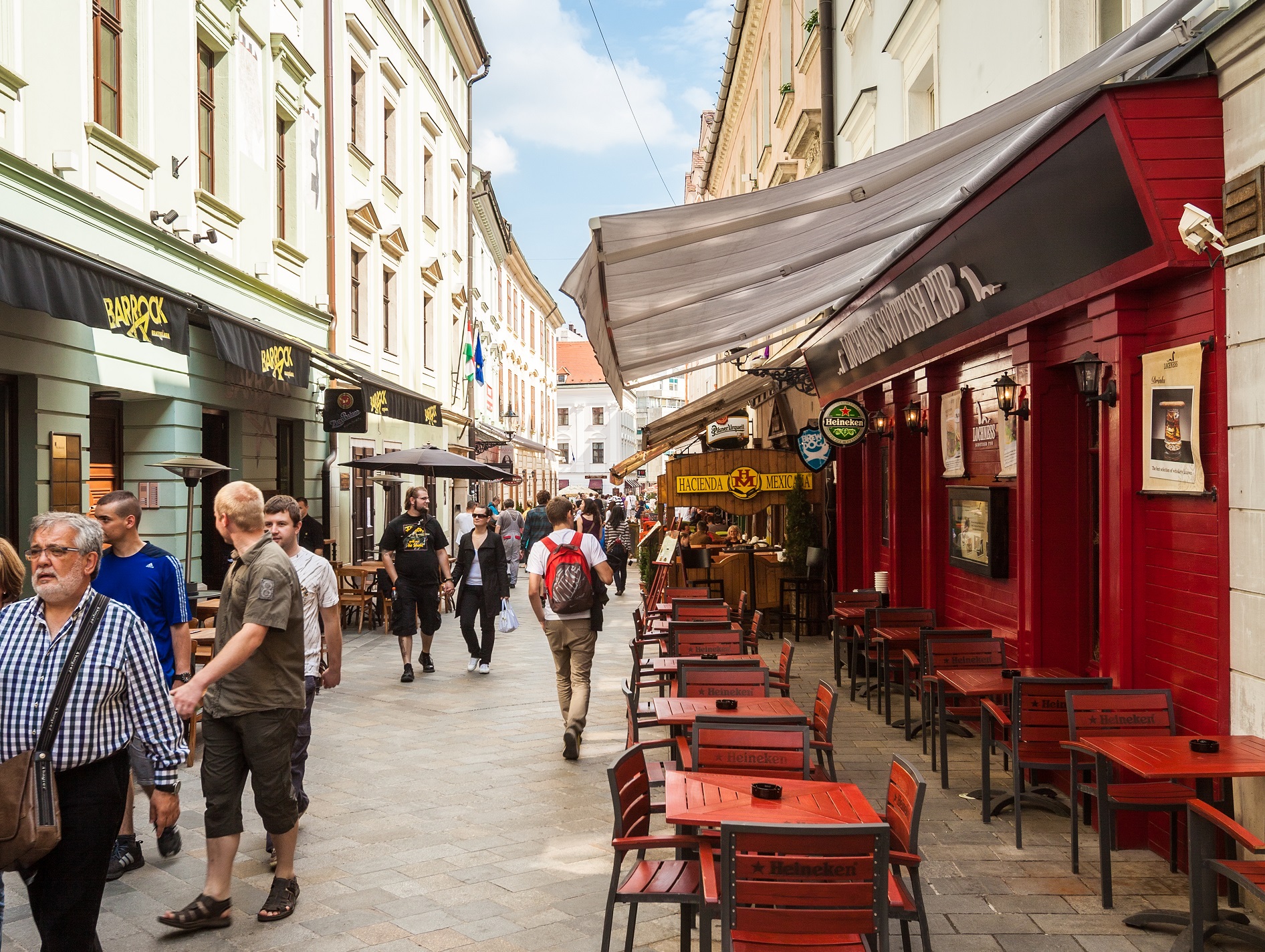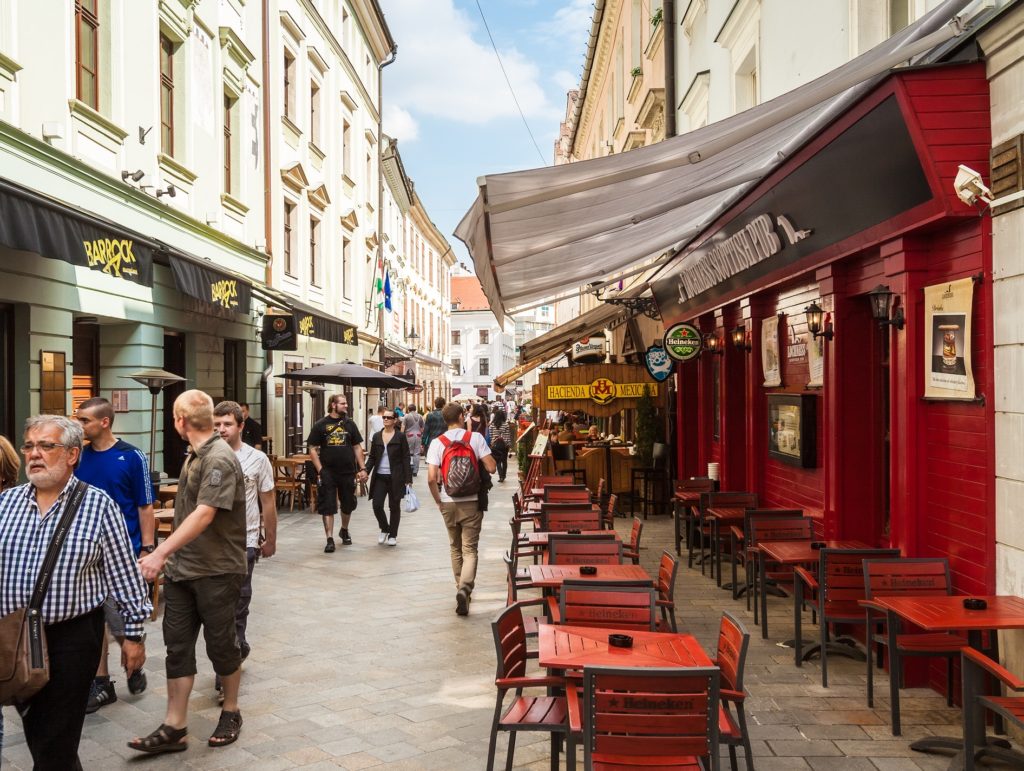 All restaurants in Bratislava are required by law to issue a printed receipt from the electronic cash register, so if you have any concerns over the bill, make sure you get one. Major credit cards are usually accepted, but check first, before launching into the chateaubriand steak for two and champagne supper.
Bratislava Old Town is a wall-to-wall eat-out city with cafés, bars, cocktail venues, restaurants, self-service canteens, stand-up buffet stalls – you're totally spoilt. Slovak, international, Mediterranean, Mexican, Japanese – there's a great choice and it's doubtful that you'll need to book (apart from at the 'flavour of the month'), as if your intended eaterie is full, just totter two yards along the pavement and you'll find another option.
Drinks
Slovak mineral water (minerálna voda) is delicious and contains many lifeenhancing properties. Also popular are soft drinks like Kofola (Czech cola) that's mixed with soda water and often available on draught in half-litre mugs. Vinea is a refreshing red or white grape juice drink sold in tall glass bottles and local fruit juices are excellent, with unusual choices like peach, pear or lip-puckering quince.
These days, the most popular drink served in Bratislava is homemade lemonade. It often arrives in a jam jar, half-litre jug or some other funky glass and will have added orange zest, ginger, nettles, cucumber, watermelon, lavender, cardamom, elderflower, rose petals, mint and stevia, or something else that the bartender has dreamed up that week. This is a delicious alternative to beer, especially in the often-overpowering heat of a summer's day.
For centuries under Hungarian rule, the peasant population had little access to wine (vino), which went to nobles throughout the kingdom, although the lower-quality stuff did serve as an everyday drink in wineproducing areas. Beer (pivo), the beverage of the rising burgher class, cost too much for most peasants and it was illegal to make it without a royal licence. Burčiak is a young wine, cloudy and still fermenting, which is produced in September, doesn't last long and can explode in the bottle. Try it at the Pezinok and Modra wine festivals.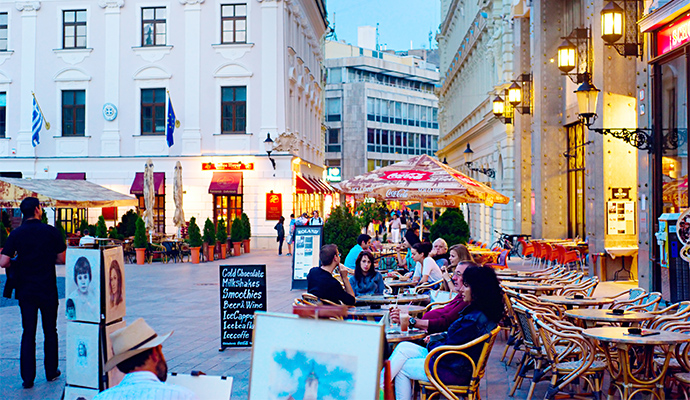 Slovaks used to distil at home the produce from their orchards, creating the famous, fiery plum brandy (slivovica), and similar paint-stripping brews from pears (hruškovica), cherries (čerešňovica), apricots (marhuľovica) and even beetroot (repovica). Devín specialises in a less fiery currant wine (ríbezlák). Borovička is made from juniper berries and tastes a bit like gin. It's said to be the best cure for a cold. Demänovka is another bittersweet herbal liqueur while the cinnamony Becherovka is Czech but also worth a try.
Honey wine (medovina) used to be made in nearly every village home. This custom has dwindled nowadays, but most villages still have at least one beekeeper. This mead-like drink is still served hot at Bratislava Christmas market and there is another bizarre festive drink which the brave can try there. Hriatõ is an alcoholic 'speciality' made from heated honey and bacon or goose fat, giving off a powerful aroma. It makes a good cough mixture, if you can get it down.