This little church is quite unique – an Art Nouveau gem covered in light blue icing sugar.
The full title is the Church of St Elizabeth (Kostol sv Alžbety). According to legend, Elizabeth, the daughter of Endre II of Hungary, was born in Bratislava in 1207 and was the city's only well-known saint. It was decided that a church be built in her honour and permission was asked from the Hungarian archbishop Vászáry.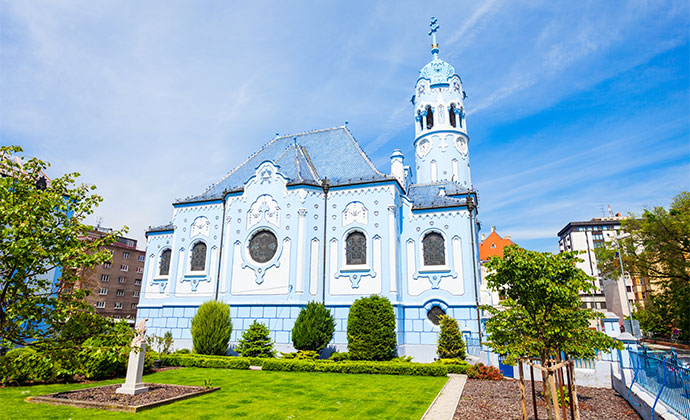 The Hungarian architect and 'father of Hungarian Art Nouveau' Ödön Lechner was commissioned to design a church in 1907, on the 700th anniversary of Elizabeth's birth, while Antal Durvay was in charge of the construction work. Lechner used concrete for the church and covered the exterior with plaster painted in several shades of blue, decorated with ceramic floral tiles in darker blue. He knew the legend of St Elizabeth well and used her rose motif many times in the decoration. Budapest painter Gyula Tury decorated the altar showing Elizabeth giving alms to the poor outside Wartburg Castle. The church was consecrated on 11 October 1913.
Note that the church's opening hours are awkward and unreliable, especially in winter; you can at least look through the glass doors and it should be open for half an hour before the daily 18.00 service.