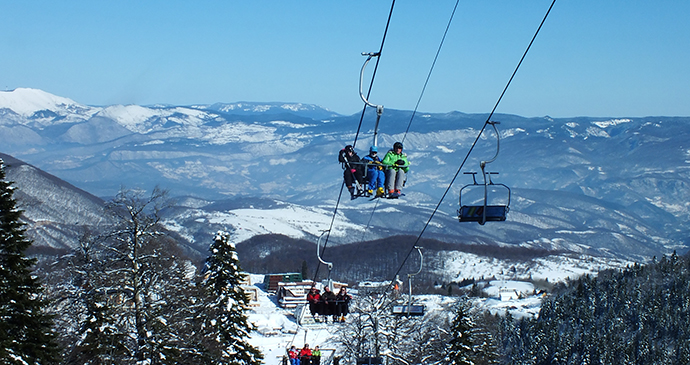 Skiers enjoying the facilities on Bjelašnica © Tourism Association of Bosnia and Herzegovina
Bjelašnica and Igman: these two names are also synonymous with the 1984 Winter Olympic Games.
Bjelašnica and Igman: these two names are also synonymous with the 1984 Winter Olympic Games. Bjelašnica hosted the men's alpine competitions, while Igman was the hub for all the Nordic disciplines (ski jumping, cross country, etc). Most of the infrastructure in this region was destroyed during the war, as were many of the traditional highland villages.
Considerable reconstruction has been completed and constant improvements are introduced every year. Bjelašnica's ski runs have been revived to almost pre-war level; all but two of the drag lifts have been reopened. Accommodation facilities now include two hotels and many apartments for hire. A total of nine lifts are operational on these mountains. Bjelašnica has the better infrastructure and more challenging slopes, while Igman is a bit easier and also has a children's lift with soft hills to practise on. Bjelašnica has the steepest of all ski slopes in the country – it's quite a rush – and with small or no queues or waiting.
The skiing area on Bjelašnica has been rebuilt and is the most challenging of Bosnia's ski mountains. Bjelašnica has one blue run (Kolijevka), while all the other runs are red or black. Lift tickets are extremely cheap. One-day passes cost 30KM on weekdays and 35KM at weekends. Provided there are no ridiculous queues (most likely at weekends), you can easily get in a dozen runs in a day. There are medical and toilet facilities on site as well as a mountain rescue team.
A few kilometres from the slopes of Bjelašnica are the ski runs on Igman Mountain, the north face of Bjelašnica. Igman is ideal for families and even has horse-drawn carriage rides through the snow. There are ski rentals here as well (for as little as 18KM per day), and the ski-lift passes are the same price as on Bjelašnica.
Travel inspiration from booking.com