More than 900 plant species have been recorded, including 26 tree and 138 shrub species.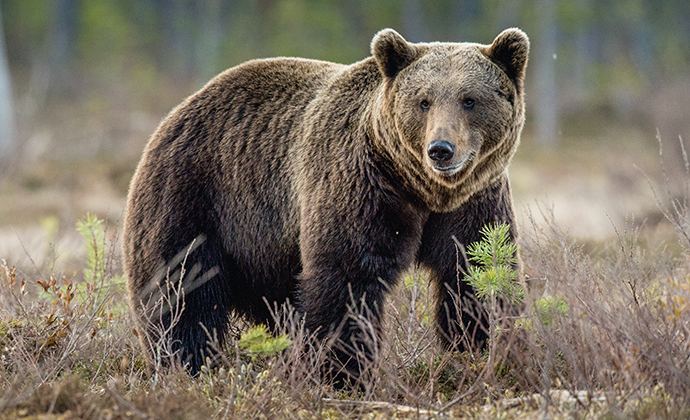 You might come face-to-face with a brown bear in the park © Sergey Uryadnikov, Shutterstock
First established as a national park in 1939 (although a 'park' has existed here since the Middle Ages), it joined the list of UNESCO World Heritage Sites on 14 December 1992, then in 1993 it was granted the status of Biosphere Reserve, affording unique opportunities for specialist ecological study. There are conference and library facilities here, together with accommodation for up to 100 visiting scientists.
Today, the park is an integral and important feature of around 1,700km2 of ancient primeval forest within Belarusian borders, although the woodland stretches across the border into Poland, which jointly administers the park with Belarus. Deeply worrying tales have reached my ears in recent times that extensive logging is in progress on the Polish side. This must be resisted, because the forest here is all that now remains of a vast canopy that once covered the whole of the huge northern European plain, the former home and playground of Polish princes and Russian tsars. In fact, the last private owners of the forest were the tsars of the Russian Empire, from 1888 to 1917. After the Revolution, it was nationalised and brought under the jurisdiction of the state. A number of the mighty oaks may be over 650 years old. One of them, 'the Solitary Oak', is specifically signposted within the park.
Today life here is calm and the reserve is home to around 212 species of bird, including corncrake, eagle owl, white stork and white-tailed eagle, along with 59 species of mammal, including wild boar, wild horse, roaming elk, beaver, lynx, fox, deer, wolf, otter, badger, mink, ermine, marten and, most famously, bison. By 1920, the European bison was almost extinct. Once to be seen roaming the great continental plain in their thousands, only a handful remained. But with careful management and controlled husbandry in the intervening years, numbers have increased to more than 2,500 in eastern Europe. Several hundred are known to inhabit the park and can readily be seen from the roads and paths.