Surrounded by a large park boasting a number of ornamental lakes and sumptuous gardens.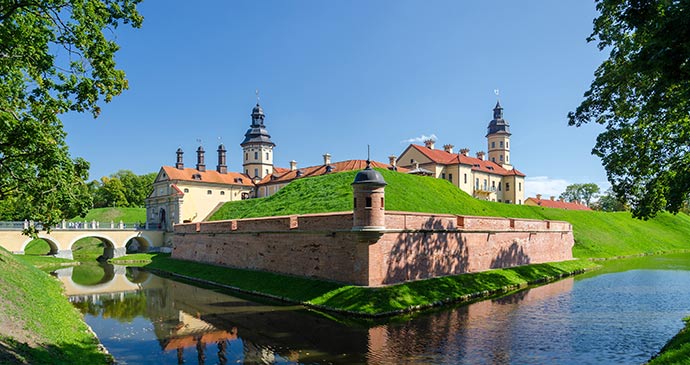 The palace dates from the 16th century, but also displays features of the Renaissance, Baroque, Neo-Gothic, Rococo, Classical and Modernist period © iLongPlay, Shutterstock
Situated 120km southwest of Minsk and only half an hour by road from Mir and its charming castle (in Grodno region) is the delightful historic settlement of Njasvizh, one of the oldest in the country. Thought to have first been established as a settlement in the 13th century, historians believe that the town itself was founded around 1446. Though the new town is without charm, many of the oldest buildings have been retained in the historical area, and the former home of the Radzivili family is widely regarded as the most attractive palace that the country has to offer. The family's ownership of the town began in the middle of the 16th century and was to last for more than 400 years, during which time it gained great fame for its prosperity. In 1586, the town was granted Magdeburg rights of self-government and determination, which was a catalyst for rapid economic development. Many trade guilds were established and it was no surprise that at the end of the 16th century it was almost completely rebuilt, the chaotic and haphazard layout of its medieval streets being replaced by the geometric design that remains to this day. The main street crosses the town from east to west. It was originally surrounded by earthen walls that were constructed to make the town a fortress. Some of them, most notably in the southeast, can still be seen. Over the centuries, many severe trials (such as plunder, fire and war) took their toll on the town but, through it all, the mighty Radzivili dynasty survived. The line finally ended in 1939, but not until it had first seen off not only the Great Lithuanian Principality, but also the might of the Russian Empire.