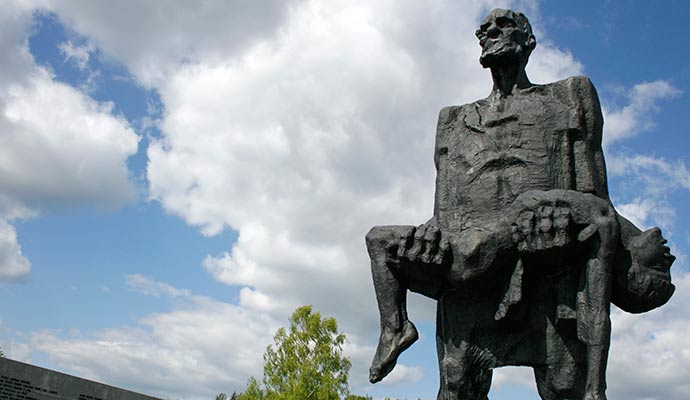 The Unconquered Man depicts Joseph Kaminsky, the only adult to survive the massacre, carrying his dead son © John Oldale, Wikimedia Commons
The mournful monotone of the tolling bells in the silence that pervades all around acts as a summons, inviting you to look, learn and never forget.
If you take only one out-of-town trip while in Minsk, then do try to make it this one. Only 75km from the capital, this memorial complex bears witness to the horrors of Nazi barbarism during the Great Patriotic War. It was constructed on the site of the former village of Khatyn, which was razed to the ground in the spring of 1943 and its inhabitants brutally butchered. At the centre of the complex is a truly astonishing bronze sculpture, the 6m-high The Unconquered Man. Before you go, do visit the excellent English-language website for a full description of the terrible events in 1943 and for further details of the memorial complex that exists today.
The tragedy of Khatyn was not just an isolated episode in this tumultuous war, for the experience was replicated many times over on the territory of the Soviet Union. It is said that the inhabitants of 618 Belarusian villages were burned alive during the occupation in SS punishment operations against partisan groups. Of these villages, 185 were never rebuilt and have simply vanished from the face of the earth. Overall, every fourth Belarusian perished during the war: a total of 2.2 million people. This figure includes the 380,000 who were deported to Germany as slave labourers, never to return home. A staggering 209 cities and townships and 9,200 villages were destroyed. So catastrophic was the impact on the population that it did not recover to its pre-war total until 1971. Every visitor to Belarus is struck by the large number of war memorials that exist and the extent to which the conflict continues to dominate the national psyche to this day. A visit to Khatyn helps to place all of this into the right context.
So it is to the memory of all of these communities that the vast complex at Khatyn is dedicated. Covering a total area of 50ha, the memorial has 26 symbolic chimneys, each with a mournful, tolling bell, to mark the site of each of the 26 houses, the boundaries of which are delineated by low concrete walls with gates, all of them depicted as being open as a metaphor for the hospitality of Belarusian people. Also marked are the sites of the village wells. On the face of each chimney is a plaque bearing the names of each family member who lived there, from aged grandparents to babes only a few weeks old. In itself this is a truly sombre metaphor, for only the brick chimneys were left standing when the Nazis torched log houses in Belarusian villages.