The panorama as you walk around the castle walls by the lakeside towards the fortress is magnificent.
Situated on the edge of the town in a delightful setting overlooking a serene lake and built largely of stone and red brick, it is not only a powerful monument to the influence of the princes who commissioned its construction, but also very pleasing on the eye.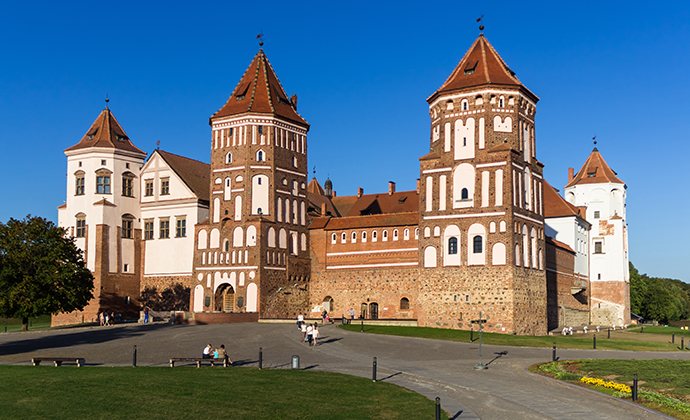 Since 2000, Mir Fortress has been designated a UNESCO World Heritage Site, one of four in the country © Kuryanovich Tatsiana, Shutterstock
The walls and towers of the castle (still known today as the 'medieval flower') first appeared in the 1520s, followed by the construction of the Renaissance palace itself between the late 16th and early 17th centuries. After a battering during the war with Russia in 1655 and the later Northern War, it gradually fell further into disrepair, before a revival in the 1730s when a portrait gallery and ornate banqueting hall were added, together with a beautiful Italianate garden containing citrus, fig, myrtle, cypress, box, mahogany and laurel trees. The scent on the breeze of summer evenings must have been extravagant and intoxicating. Latterly, the complex suffered extensive damage in the Great Patriotic War, when a Cossack regiment was stationed here and a number of engagements took place in the vicinity. A very significant programme of restoration is now complete and this beautiful walled structure of five towers (after the first four, a fifth was added for security purposes in the centre of the west wall facing the road to Vilnius as the only means of access by drawbridge and portcullis) and a courtyard accommodates a small hotel, conference hall and traditional restaurant in addition to the museum of exhibits housed in various rooms throughout the building. Caution is needed when negotiating the steep, narrow and winding staircases which permit access to those parts of the castle that are open to the public, with some of the steps being quite large. It is possible to climb to the very top of the southwestern tower, the best-preserved of the five, from which there are extensive panoramic views over the town and surrounding countryside. The five floors currently house works of fine art.