A sanctuary to step off the world in search of some inner peace and calm.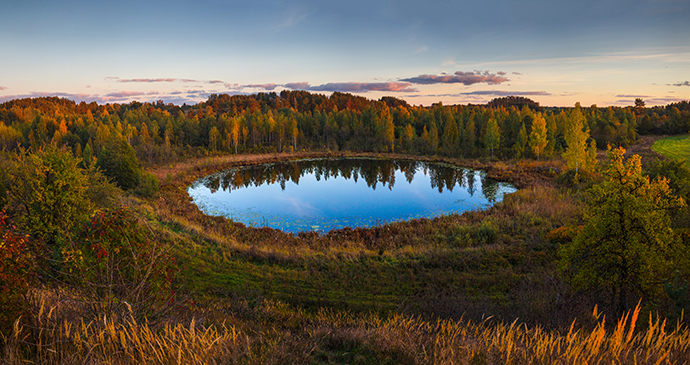 Close to the Latvian border, the sprawling Braslav Lakes National Park is an enchanting mix of rolling hills, aquamarine lakes and labyrinthine rivers © Vikar Malychyts, Shutterstock
With the sprawling town of Braslav within its boundaries, this beautiful park of 70,000ha is located close to the border with Latvia, about 250km north of Minsk and slightly less northwest of Vitebsk, through Polotsk along the P14 road. Established in 1995, it is famed for the unique nature of its aquatic ecosystems. The southern part of the park is mostly lowland marsh and forest, while the central and northern parts consist of beautiful blue lakes interconnected by a labyrinth of hundreds of rivers and streams set in picturesque rolling hills. No fewer than 189 species of bird live here, including black stork, osprey, tern, bittern and ptarmigan. It is also possible to spot elk, wild boar, roe deer, beaver, fox, racoon, badger and wolf roaming free in their natural environment, although all are of course shy and evasive. There are also complexes consisting of large pens for closer study, although do bear in mind that these are enclosed spaces. Animals are not free to wander without boundaries and as a matter of principle, the difficulties of this concept speak for themselves. Inhabiting the lakes are 28 species of fish, such as eel, whitefish, whitebait, zander, pike, catfish, carp, bream, chub, turbot, tench, perch, gudgeon, loach, ruff and stickleback. The park is rich in flora (more than 800 species). The areas of forestry include birch, pine, fir, black elder and aspen.
Visitors can dip into various organised tours on horseback or by car, as well as on the water or by foot, lasting from one to several days. The pastimes of hunting and fishing are particularly well served. One of the most delightful trips is by launch across the limpid lakeland waters.