Stay in a snug wooden hut in this UNESCO-listed biosphere reserve.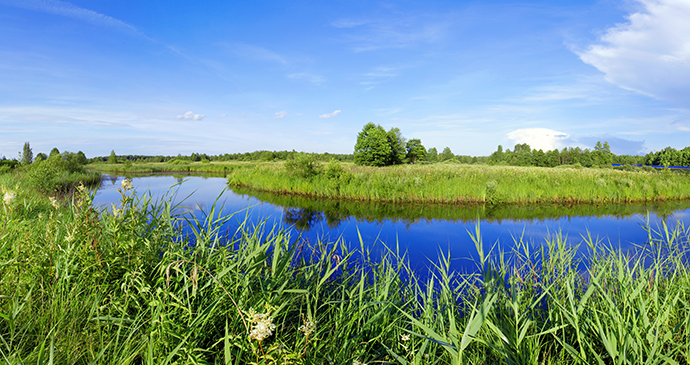 Berezinsky Biosphere Reserve covers around 85,000ha of primeval forest, marshland and lakes © nodff, Shutterstock
Now part of UNESCO's World Network of Biosphere Reserves, this special place was originally opened in January 1925 to preserve and nurture another splendid natural environment, as well as to conserve and protect the valuable wildlife living there, notably beaver. Covering around 85,000ha and attracting around 20,000 visitors per year from within Belarus and abroad, this is a substantial area of wilderness. Here is a land of virginal primeval forests (mostly pine and spruce), marshland (one of the largest in Europe) and lakes, rich in diverse flora and fauna, sitting right in the middle of the watershed of the Baltic and Black seas. The areas of marshland are particularly beautiful. Small wooded islands rise above marsh plains as far as the eye can see. Thousands of years ago they were proper islands, washed by the waves of the vast glacial lake that is buried now under a thick and impenetrable layer of rich peat. The largest and longest river, the Berazhina, is an integral link in the system that connects the Baltic Sea to the Black Sea. In times gone by it was a very important trade route. Today, trade has been replaced by leisure and the river is populated with visitors retracing the routes taken by Vikings and Greeks in history.
Around 52 species of mammal live here, including brown bear, elk, wolf, otter, wild boar, lynx, the once rare (but now flourishing) beaver and even the extremely rare European bison, along with 217 species of bird (including the golden eagle and the seldom-seen black stork), ten of amphibian, five of reptile and 34 of fish. And mosquitoes. Clouds of them. The vegetation is also richly diverse, with more than 780 herbaceous varieties being found in the reserve, as well as over 200 varieties of moss and lichen.