Enjoy the green spaces of this understated administrative capital before visiting its perfectly preserved old town.
Understated, under-visited and hardly a household name: here's a well-organised city with a great quality of life, getting on quietly with its day-to-day business, enjoying its weekends and counting down the days to its vibrant festivals. And when it comes to those, Vitoria's inhabitants can surely compete with all comers in any 'letting your hair down' tournament.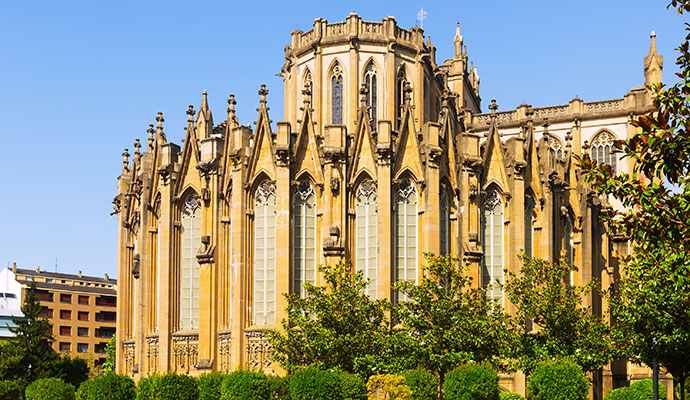 Vitoria's Catedral de Santa María is one of the town's most striking landmarks © Iakov Filimonov, Dreamstime
Vitoria was officially named 'European Green Capital, 2012', and its environmental credentials are much in evidence as you wander around the city, from its green belt and six parks to its cycle paths, pedestrianised old town streets and nearby wetlands – a haven for birdlife. Indeed, Vitoria was the very first Spanish city to sport a bicycle path, and each citizen has over 40m2of green space. Mountains are present on the horizon on three sides, and that green belt will extend to over 1,000km2 when the plan, devised in the 1990s and constantly evolving, is complete. No-one can say that the city doesn't make the most of this accolade. Not only do the inhabitants talk the talk, but they walk the walk too. And run, speed-skate and cycle their way around town (so much so that they have banned the use of bicycles in the old town, not that many people take any notice, of course). Using Vitoria's green belt, you could cycle all the way around the city's perimeter, a distance of 30km.