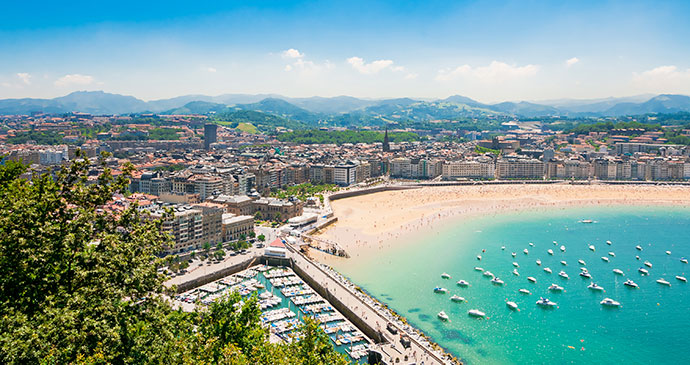 The sweeping bay of San Sebastián © Alexander Demyanenko, Shutterstock
Surf, swim or sunbathe? Choose your urban beach accordingly, then reward yourself with a memorable meal in this gastronomic paradise.
If you wanted a shortcut to designing the ideal city, then cloning San Sebastián (known locally as Donostia) would be an excellent way to start. Cradled in a perfectly shaped bay, it boasts a quartet of beaches waiting to welcome everyone from lazy sunbather to adrenaline-pumping surfer. Gorgeous stretches of sand right on the doorstep might be enough for some cities to rest on their laurels, but San Sebastián doesn't stop there, comfortably accepting its accolades as a global gastronomic giant and its frequent appearances in most 'world's best cities' lists, and rejoicing in the vibrancy of its festivals, which stretch from the chic internationalism of its annual film festival and its well-established jazz festival to the unbridled raucousness of January's tamborrada. And all the while it basks in the elegance of its Belle Époque buildings. Here, above all, is a city seemingly entirely happy in its own skin, and while it is certainly accepting of the many, many visitors who flock here from Spain and further afield, it draws its true strength from simply being a very fine host to its own citizens throughout the year.