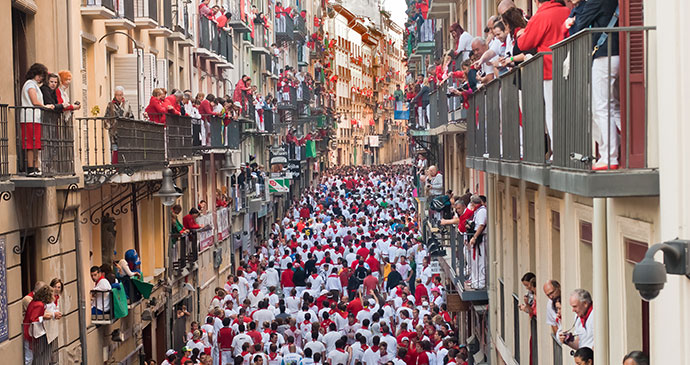 In July, Pamplona comes to life during the festival of San Fermín © Mmeeds, Dreamstime
Pamplona is the only major conurbation in Navarre and thus unrivalled as the capital of the autonomous community. The city marches to at least two distinct beats. Its fast-forward setting shows itself during the nine days in July when it is overwhelmed by the frenzied festival of San Fermín, an internationally acclaimed party throwing together delirious locals with hardcore visitors to take part in – or more wisely, to watch – the bull-running that has become the city's hallmark. How important is the festival? The digital clock at the end of Calle Estafeta, which counts down to the start of the festival (and is reset immediately after it finishes) gives you the answer. Marching to an altogether different beat, pilgrims descend slowly into town from Roncesvalles, largely between April and September, to enjoy the urban facilities quite frequently denied to them en route to Santiago.
Follow in the footsteps of Hemingway and run with the bulls at San Fermín, if you have an appetite for danger.
For the rest of the year, Pamplona returns to its normal self, a pleasant place to live and visit. Recently, it has claimed the title of having the 'most green space per inhabitant' of any city in Spain, though Vitoria-Gasteiz might raise an eyebrow at that accolade. Certainly, from the Parque Taconera, populated by deer and peacocks, to the Japanese-themed Parque Yamaguchi, the sculpture park in the ciudadela and the peacefulness of the Parque Media Luna, there are plenty of open parkland to enjoy.