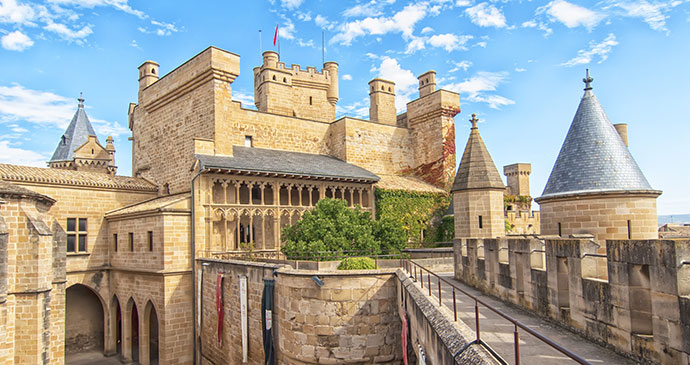 Built in the 14th–15th centuries, Olite's castle looks like it could have come straight out of a fairytale © Chanclos, Shutterstock
Discover the former seat of the Kings of Navarre, complete with a fairytale castle.
Once of enormous importance for strategic reasons, Olite was formerly one of the chosen seats of the Kings of Navarre, owing its medieval prosperity to the privileges granted to it by King García Ramírez in the year 1147. The foundation of the town probably stretches back to AD621, but a walled Roman settlement was undoubtedly sited here long before then. Now the town's significance derives from tourism and wine production, the latter encouraged by the Mediterranean climate and evidenced by the many bodegas in and around town, many of which can be visited. And as for alcohol-free tourism, Olite has the Palacio Real, an outstanding French Gothic-style monument dating from the 14th and 15th centuries and restored to great glory over a 40-year period starting in the 1930s. Ask an eight-year old child to draw a palace and they might come up with something like this, all towers and pointy turrets. But despite its notable visitor attractions, Olite remains largely unspoilt, with its narrow medieval streets, noble houses and ample squares almost totally free of the souvenir shops that can be found in myriad places of lesser interest.