Indulge in the products of the vines and admire the architecture of some designer wineries.
The Sierra Cantabria rudely divides Álava from west to east, and south of the mountain range you're in a region that's a world apart from the rest of the Basque Country. Everywhere is covered in vines and you don't have to guess how people make their living in the Rioja Alavesa. Here, there are more hectares of vineyard than there are inhabitants and you can taste, drink, buy – even bathe in – their liquid products. The Romans can take the credit for bringing viniculture to the area, but it's only since the 1970s that the production of wine here has become truly commercially focused.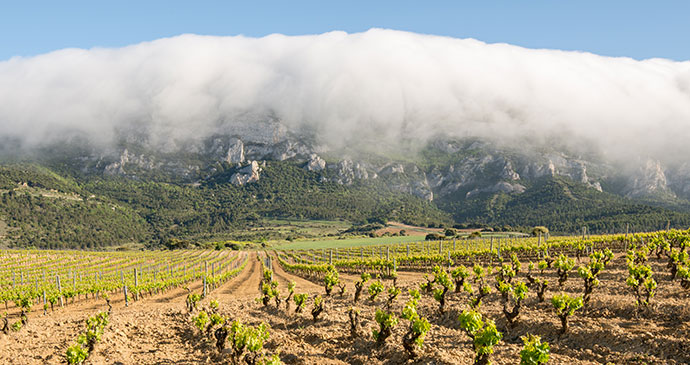 There are hundreds of vineyards to explore in Rioja Alavesa © Alberto Loyo, Shutterstock
Now, wine tourism is very firmly established too and, as well as visitors from other parts of Spain, Americans, Australians, British, Germans and many others flock here to indulge, tasting the wines in bodegas that range from medieval caves to architect-designed eccentricities. While the vine dominates, cereals and olives are also grown, though the latter's importance is less than it was a hundred years ago.
As well as the agricultural landscape, the small towns that punctuate it are attractive, too: Laguardia (Biazteri) is the jewel, its strategic, lofty location at one time making it 'the Guardian of Navarre', as it watched out for armies approaching from Castile. Now, its pedestrianised old town oozes charm and points of interest, with over 250 caves lurking beneath its narrow streets. The southern border of Álava is defined by the River Ebro, beyond which lies the province of La Rioja.