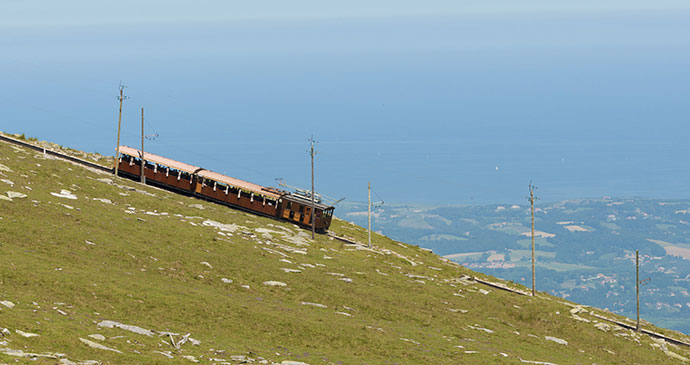 The vintage train takes passengers up the mountain at a painstakingly slow pace © Irantzu Arbaizagoitia, Dreamstime
Chunter to the top of this peak in a near-century-old train for incredible views north and west along the coasts.
Although not exactly high in Pyrenean terms, at a trifling 905m, La Rhune somehow dominates the skyline for many miles around, visible from all directions. And it has something going for it that none of the bigger summits can offer: you can get to the top without any effort at all, using the Train de La Rhune. Since 1924 this emblematic train has hurtled up the slopes of La Rhune at a leisurely 9km per hour, using a rack and pinion system to get traction on slopes that average 18%. The view from the top, if you are blessed by the weather, is a stunning 360° panorama of the seven Basque-speaking provinces. You can choose to travel by train one-way and hike the other, or simply return on the train, perhaps after a bit of shopping or dining at the many ventas (shops) that await you at the top. For walkers, there is the opportunity to meet up with the pottok horses, sheep and perhaps see some of the vultures overhead.