World-class waves, top surf schools and Belle Époque architecture – you'll find them all here.
British visitors may find Biarritz reminiscent of an English south coast resort in its 19th-century prime. Just add a pier, and you'd need only the smallest helping of imagination to complete the pretty picture. Often mentioned in the same breath as French seaside icons such as Cannes or Saint-Tropez, the town's very name still conjures up an image of glitz and glamour, even though the Belle Époque came to an end over a hundred years ago.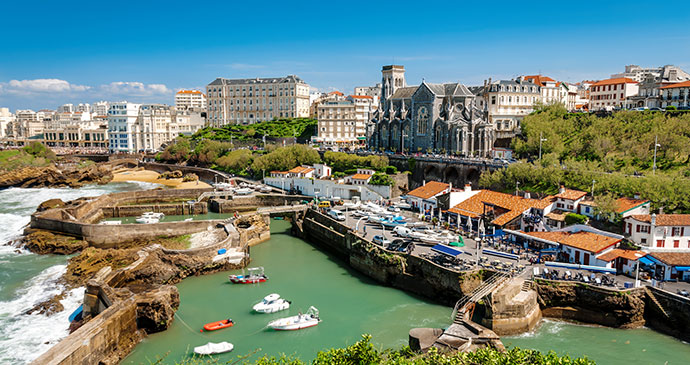 With its elegant period villas, stylish hotels and well-trimmed green spaces, this is a town that has looked after itself. The celebrities that once graced the town might have moved on, but if they ever chose to come back, then Biarritz would be ready to welcome them with style. In the meantime, surfers bring their own vibe to town, mastering the waves and the equally difficult art of riding scooters while clutching their giant boards.
The town undulates, stretching itself out along its many beaches, its sandy and rocky shore. As far as the eye can see – and that's usually quite far – the vista beyond is now of the uninterrupted sands that fringe the coastline of the neighbouring department of Les Landes.