Roam the Navarrese badlands with their astonishing rocky outcrops, rare birdlife … and screaming military aircraft.
Navarre's film-star semi-desert, the Bardenas Reales, was first designated a natural park in 1999 and as a biosphere reserve a year later. The wonders of the landscape are self-evident once you are inside the park, but other peculiarities are not so obvious. First of all, the area is owned by 20 nearby communities, as well as by the nearby Monasterio de la Oliva, and the distant valleys of Roncal and Salazar in the Pyrenees. Rights of perpetual pasturage were granted by the king in centuries long gone, giving the territory its Real (Royal) title. Every year from 18 September, shepherds bring their flocks of sheep down the cañadas reales (drovers' routes) from those valleys to avoid the Pyrenean winter, and stay until April or May. Some small waterholes have been created to supply the flocks, while the shepherds live in the nearby towns.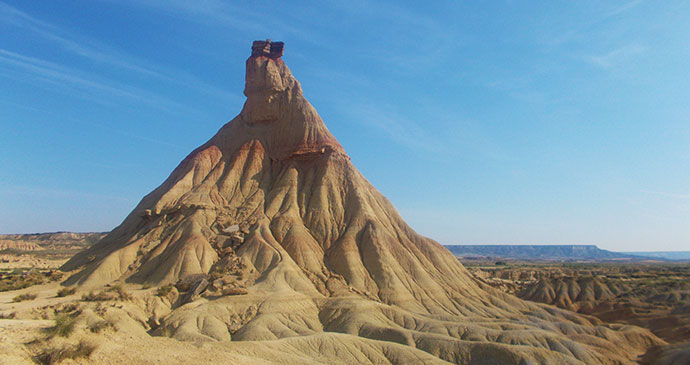 With geological features straight out of the Wild West, it's no surprise that Navarre's Bardenas Reales semi-desert is a favourite for film sets © Murray Stewart
Secondly, this heavily protected area has a military base and firing range in its very middle. Every day in clear weather, Spanish air force jets arrive from Zaragoza, screaming down from above, dropping dummy bombs and occasionally live ammunition on to targets said by locals to be neatly arranged to represent Middle Eastern airbases. Needless to say, many locals want the base removed from this beautiful, rugged location, but the Government pays the communities richly for its presence and there seems little chance of the situation altering anytime soon. For first-time visitors, the planes are an additional attraction in themselves, perhaps the closest many people will (hopefully) ever come to being in a war zone.
Curiously, Bardenas Reales's incredible scenery attracts a mere 50,000 visitors annually to marvel at how nature has sculpted the landscape over a period of millions of years. And yet many locals will exclaim that this is still a little-known natural wonder, under the radar even of many Spaniards. Indeed, the French account for over half the visitors.