Explore the tropical microclimate of São Jorge's fajãs often created by lava flowing into the sea.
An islander used to greet visitors with 'Welcome to São Jorge, my island with around 9,000 people and over 20,000 cattle'. Known widely beyond its shores for its delicious, strong, Cheddar-like cheese, the other attributes of this long, cigarshaped island are far less recognised. To some, São Jorge is an island of mystery, sometimes disappearing into cloud or mist. Arriving at the Velas quay, the imposing sea gateway and walls dating from the time of pirates promise quiet pleasure. Velas town itself features narrow streets, small shops, an impressive church, some manor houses, a little square or two and the sound of voices drifting out from tiny bars.
Elsewhere, there is an intense pleasure to be derived from walking along little used farm roads in utter silence with stone walls, hedgerows, cows and occasional trees giving depth to the stage. In sunshine and with a deep-blue sea beyond, the cliff paths are magnificent for scenery, combining landscape grandeur and intimate vignettes together with unexpected human interest, while steep descents to isolated fajãs on tiny tracks give a tender appreciation of the hardships of the islanders.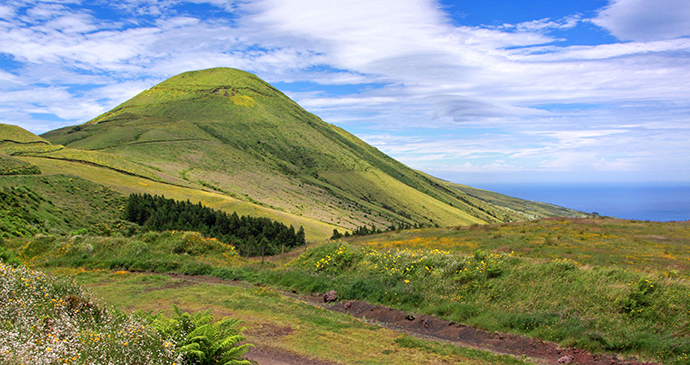 Although it is an island with good walks, graded unsurfaced roads have in recent years ramified throughout the island and in reasonable weather allow the motorist to explore many of the previously hidden beauties of the island. Many very happy days can be had exploring the island back roads as well as the little-trafficked main roads from which side roads lead into small, often charming villages.
On a full moon the island comes into its own; the channel across to Pico island reflects and shimmers, while the great black unequal-sided triangle of Pico mountain massively provides the theatre setting. In Velas, drop down to the harbour, and on the tiny terrace, if you are lucky, thrill to the haunting mew of Cory's shearwaters as they fly just above your head in the dark.
By car, São Jorge is an island on which to spend slow days relaxing, stopping to explore the accessible little settlements along the coast – or walking to the more isolated ones – and pausing to enjoy the scenery. On the southern coast, it can be difficult to tear your eyes away from the imposing pinnacle Pico. The fajãs, while not unique to São Jorge, are a very special feature of this island.
Now classified as a UNESCO Biosphere Reserve, their microclimates and settlements are most rewarding to explore – some are only accessible on foot. There are numerous viewpoints, the two ports of Velas and Calheta, lovely sites for picnics, and opportunities to make easy short walks – there are plenty to take you to lovely places. One can also take the ferry and visit Pico and Faial islands, the other two islands that make up the so-called triangulo.