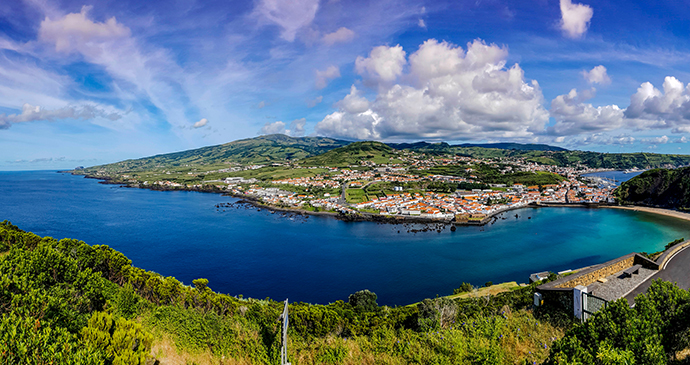 The view from the top of Monte da Guia shows the town of Horta as it stretches out along the coast © Uschi_Daschi, Shutterstock
The only town on the island of Faial, Horta is home to the remains of a volcanic crater as well as a brand new €35m quay to complement the existing one dating from 1876.
Picturesque Horta has long been a major port of the Azores and the town has dominated the island; today its marina is a major tourist attraction and the harbour has the largest maritime painting collection in the world. Around 1,100 yachts put in each year for supplies and repairs as they make the Atlantic crossing and this influx of around 5,500 mostly young crew members certainly enlivens the evenings, especially between May and August. History is everywhere among the streets and old buildings, and always across the channel is the great cone of Pico. Sometimes it is totally clear, seeming arrogantly to challenge the elements to renew their erosive attacks. More often, it is adorned with a fast-changing wardrobe of clouds, engulfing its summit, encircling its midriff, or clothing it from apex to base, and obscuring it from our sight but not our consciousness; you never tire of glancing across the channel. In winter with its uppermost quarter dusted with snow and fronted with a travel-brochure blue sea, the mountain is breathtakingly beautiful.
Horta, will take at least a half day to explore, easily a full day with the museums. Seeing the highlights of the rest of the Faial island can be done by taxi or hire car and could occupy a day. There are now a few more official walks too, to stretch the legs.