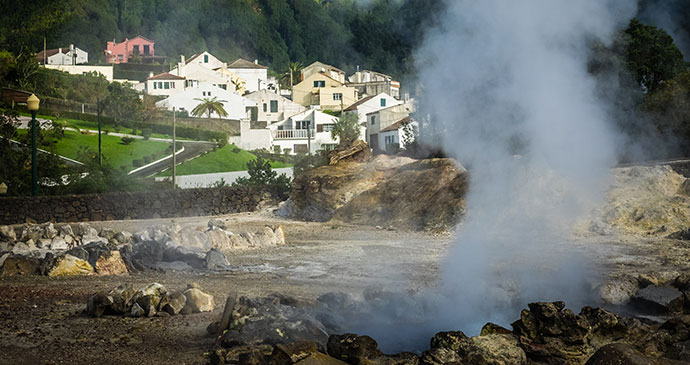 Furnas is an ideal 'inland resort' to begin to relax, unwind and get into a holiday mood © Paweł Opaska, Dreamstime
As well as the 19th-century Terra Nostra garden, Furnas is home to hot springs and fumaroles.
In the southeast, the small spa of Furnas, which physically has changed little over the years, is a must. Here, bubbling hot springs and fumaroles, together with the smell of sulphur, remind you that you are on a volcano in spite of the verdant surroundings; in fact you are in the centre of another large crater. Twenty-two mineral waters, all with different tastes, spout out of the ground; some have elaborate manmade ornamental surrounds, while others just flow from between the native heather bushes. The 12ha garden of Furnas's Terra Nostra Garden Hotel, mostly dating from well over 150 years ago but with beginnings in the late 18th century, with its naturally warm thermal swimming pool and meandering walks beneath some 2,000 trees, provides contact with the genteel life of earlier times.
At the edge of the village is a forest services' immaculately maintained tree nursery and trout farm; visitors welcome. The local large flat soft rolls called bolos levedos are made in Furnas and are delicious, especially in the Café Atlântico when filled with cheese and ham and toasted.