It is difficult not to slip back in time on a visit to Angra, as its empty streets and shipwrecks reverberate from the period in which it was the centre of the Atlantic universe.
Given the setting and Renaissance urban planning, it is difficult not to slip back through time to the period when Angra was the centre of the Atlantic universe. Trading and treasure ships gathered and passed through here from both the East Indies and the New World, and the town grew ever more prosperous. It was central, too, to the Azores archipelago until usurped by Ponta Delgada.
Ban the cars, change the shop windows, clamber into period costume, and all you need is a pirate ship to come sailing into the bay! Well, perhaps not quite, but it is fun to wander around at night when the streets are empty, and allow the imagination to fly.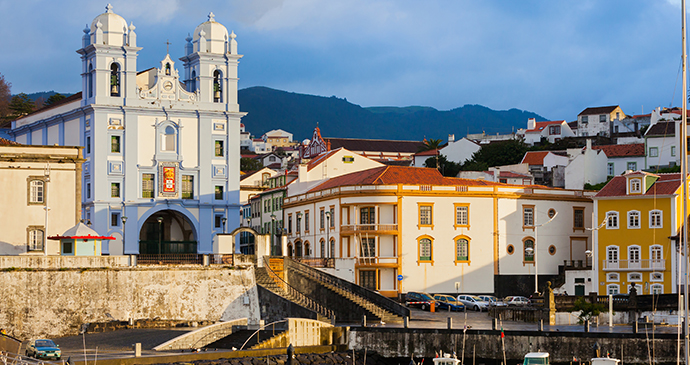 The Duke of Cumberland's flotilla of English corsairs sank the Spanish galleon Nuestra-Señora de Guia off Terceira in 1589, an example of just one of almost 900 ships recorded lost from various causes in the Azores in the past 500 years. In the Bay of Angra alone there are some 80 shipwrecks, the deepest lying in 60m of water, the oldest from 1543. Angra provided the safest haven but, when storms blew in from the southeast, it became a dangerous dead end and disastrous for those ships too slow or unable to leave in time.
It seems there are few doubloons to be found because any treasure was recovered soon after the shipwreck since such losses would severely impact upon the Portuguese and Spanish economies. These wrecks, however, represent the most marvellous sites of marine archaeology, time capsules because of the suddenness of their demise. There is also an 'anchor graveyard' near Angra, created by ships cutting their anchors in a hurry to avoid rough weather.
Although no-one wants to live in a theme park, what a stimulating centre Angra could become for the study and interpretation of a most exciting and vivid period of history. The exploration, exploitation and colonial expansion of new lands and the maritime consequences of politics and war on mainland Europe could become a major visitor site like the one at Faial's Capelinhos.