For all its grandeur, Paço Ducal feels gloomy. Perhaps it's haunted by the ghost of its first duchess, who was stabbed by her suspicious husband Jaime IV in an Othello-like rage of jealousy.
Today Vila Viçosa is a sleepy, unassuming little marble-producing town whose pretty streets are lined with orange trees. But between the 13th and 19th centuries it was one of the most important locations in the Alentejo, as the site of an imposing castle and a magnificent ducal palace, both built by the powerful Braganza dynasty, whose scions sat on the thrones of Portugal and England. Both their castle and their palace can be visited today.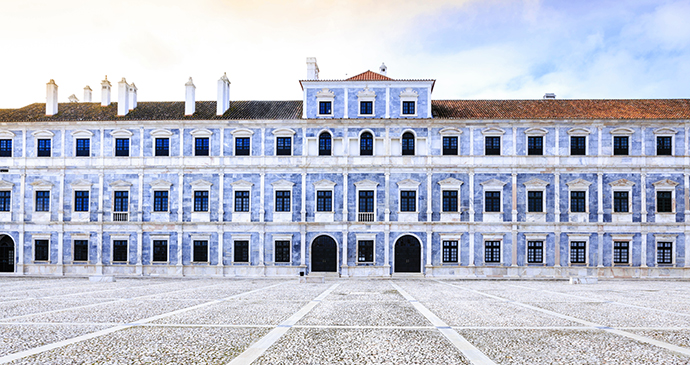 The lavish Braganza Ducal Palace in Vila Viçosa was the childhood home of the queen who brought tea-drinking to Britain © Alex Robinson
Visit the birthplace of Catherine of Braganza
Popular belief in England has it that Catherine of Braganza was a poor choice of wife for Charles II – dowdy, unsophisticated and ill-equipped to deal with life at the brilliant English court. The truth is entirely the opposite. Catherine was a trendsetter who changed England more than any other consort queen. As the daughter of João IV, king of a new and independent Portugal, she came from a court with refined European tastes. The English monarchy, by contrast, was severely damaged, near bankruptcy and culturally decades behind contemporaneous Europe. Catherine's dowry replenished the coffers and included the Bombay islands and free trade with the Portuguese colonies, among them India and gold-rich Brazil. And the new queen introduced tea (then a luxurious drink almost unknown in England), marmalade (originally quince jelly in Catherine's court) and the use of forks rather than just knives at the dinner table. She also brought European dancing and a trend for wearing trousers and shorter skirts (the robust women of Charles II's court were famously jealous of Catherine's slim legs and ankles). After installing herself in Somerset House she introduced modern European music too, through the appointment Giovanni Baptista Draghi (an important influence on Henry Purcell) as the master of music in her chapel. By the 1680s Italian opera had become the most fashionable music in London. Despite her forbearance, Catherine was treated deplorably by Charles, who had 14 children by his various mistresses, one of whom she was forced to accept as her servant – the heavy-set, Rubenesque Barbara Villiers, Countess of Castlemaine, described by contemporaneous writer John Evelyn as the 'curse of the nation'.
Yet Catherine is remembered unfavourably. This is largely because she was hated by the women of Charles's immoral court. Furious that the queen disapproved of the immorality of the court, Charles's myriad mistresses and Machiavellian courtiers desperately tried to persuade the king to divorce her, fabricating stories of her treachery. He repeatedly refused. So they resorted to portraying her as dull and dowdy, and her reputation only began to improve after the publication of an early 20th-century biography by the American historian Lillias Campbell Davidson, who famously wrote that: 'Catherine lived in her husband's court as Lot lived in Sodom. She did justly, and loved mercy, and walked humbly with her God in the midst of a seething corruption and iniquity only equalled, perhaps, in the history of Imperial Rome.'