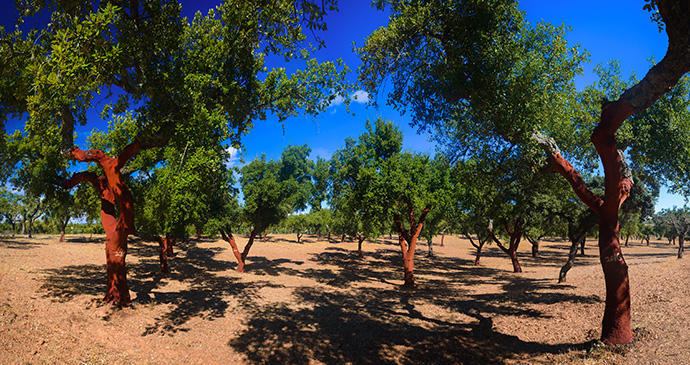 The parque is home to stands of ancient cork oaks © alexilena, Shutterstock
Prehistoric relics dot the fields – dolmens like crooked tables, the clustered circles of cromlechs and menhirs pointing skyward.
North of Arronches the Alentejo's plains become increasingly mountainous – the flat lands give way to low hills and then rugged country where rolling moors replace the plains, and crags become rocky ridges whose lower slopes are covered in woodlands of wild hazel, pine and oak perfumed with wild sage and interspersed with meadows of rock roses, silene, periwinkle and pimpernel. Prehistoric relics dot the fields – dolmens like crooked tables, the clustered circles of cromlechs and menhirs pointing skyward. Rivers and streams ripple through the hills and two big lakes dominate the lowlands, forming important havens for endemic amphibians and reptiles, as well as migratory water birds. Roads wind into the hills, to peaks and escarpments, some crowned with fortress towns like Marvão, Alegrete and Castelo de Vide, others bare and circled by soaring raptors. The land rises to the highest peak in southern Portugal, the Pico de São Mamede.
Most of the area is protected as the Serra de São Mamede Natural Park. It is contiguous with the Parque Natural do Tejo and links with the ZEPA Sierra de San Pedro to form one of the largest protected areas in southern Iberia and an important refuge for otter, wildcat and Cabrera's vole, which is on the International Union for Conservation of Nature (IUCN) red list. The disused Cova da Moura mine has one of the largest bat colonies in Europe and the Serra has more reptile and amphibian species than anywhere else in Portugal, including the brilliant green emerald lizard, and European and Spanish pond turtles. But it is the birds that make the Serra truly spectacular, with some 150 recorded species, including big spectacular birds like Bonelli's eagles, as well as Spanish imperial and short-toed eagles and black and griffon vultures, which are particularly abundant in the south of the park near Arronches and in the north of the region around the Tagus.
With its hilltop castles – like Marvão – this is one of the few places in Europe where you can see raptors from above as they soar. Other rare species seen in the area include stone curlew, scops owl, purple swamp hen, azure-winged magpie, black stork, lesser kestrel, red kite, great and little bustards, great spotted cuckoo, roller, azure-winged magpie, rock bunting, black wheatear and Spanish sparrow.
The park has good hiking and mountain biking with myriad opportunities for day walks or rides and longer treks, including walking from village to village. As elsewhere in the Alentejo, there are many rural homestays whose owners can help with orientation.