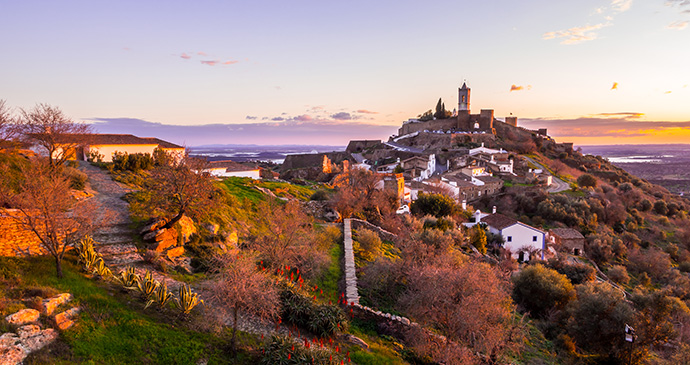 The beautiful town of Monsaraz is crowned with a castle and replete with churches © Magdelena Paluchowska, Shutterstock
The attraction here is the town itself and the atmosphere it engenders, if you visit early and off-season. And especially if you choose to wake early and wander the streets, or sip a glass of wine at sunset in a restaurant with a view.
Ringed by a perfectly preserved medieval wall, criss-crossed with cobbled streets and with whitewashed bell towers brilliant under the burning sun, Monsaraz is the kind of fortified hill town that should come with an Ennio Morricone soundtrack. It's all about atmosphere here. Try and come early, off-season and on a bright sunny day, when it's so quiet that your footfalls echo along the streets and you can hear the braying of donkeys kilometres away across the plain. There are no outstanding sights; Monsaraz itself is the destination. And the views of the tiny town are the reason for coming here: from below, looking up at its rocky hill; from its highest point, white against the golden plain; and from its castle battlements out over the Alqueva Lake and the grasslands of the high Alentejo.
Monsaraz is 18km east of Reguengos de Monsaraz, its modern counterpart and a provincial olive-, sheep- and wine-producing town with no sights of real interest. There are dozens of prehistoric ruins in the surrounding countryside and a few wineries open for visits.