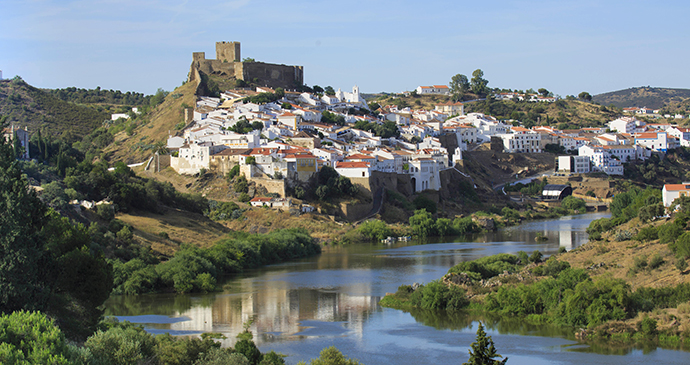 Mértola was a Phoenician river port before the Romans came to Iberia © Alex Robinson
You can still see the remains of the original Muslim decoration at the parish church's apex – with three multi-lobed arches topped by a cyma cornice moulded by two cordons symbolising infinity. These are unique in Portugal.
Clambering in a clutter of terracotta roofs and whitewash up a steep hill on the banks of the sinuous and sluggish Guadiana River, and surrounded by a natural park, is the prettiest of the Baixo Alentejo's Moorish towns. And as it's in easy coach reach of the Algarve, it's one of the region's most visited. The town has a long and noble history, but aside from an excellent museum of Islamic art and a fascinating old church built into an original Moorish mosque, there are no outstanding attractions. Like Castelo de Vide in the north, Mértola is a place in which to base yourself, or to visit on a long, languid summer afternoon to soak up the atmosphere and sip a beer or coffee while gazing out over the river.