Land of brotherhood, Grândola, the sun-burned town with equality in every face, where it's the people who give the orders.
While it has no standout attractions, the provincial town of Grândola is perfectly situated and well appointed with hotels and restaurants, making it the best beach as a base for exploration of any location on the central or northern Alentejo coast. There are sweeping stretches of sand on the doorstep, and lovely rolling cork-covered countryside. Tróia's least spoilt beaches are 15 minutes' north, while the Lagoas de Santo André e da Sancha wildlife reserve and the Roman ruins of Miróbriga are just 20 minutes' drive south. Beyond these, the Alentejo coast grows ugly and industrialised for a bit around Sines, the site of one of Iberia's largest and smelliest oil refineries; it is recommended you avoid this area.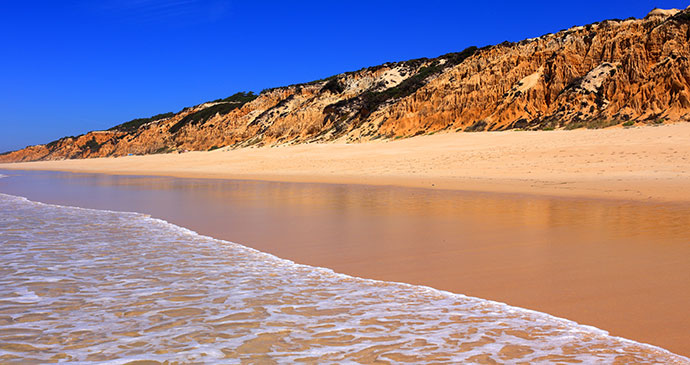 Grândola is one of the best places to base yourself for exploring the unspoilt beaches in northern Alentejo © John Copland, Shutterstock
In Portugal this sleepy town is famous for being emblematic of the Alentejo's stalwart socialist spirit. In the early 1970s the town was immortalised as 'Grândola, Vila Morena' in a song in the Cante Alentejano form by the Bob Dylan of Portugal, the poet and folk singer Zeca Afonso, who was strongly censured under the Salazar regime. Afonso used the townspeople as symbolic of the Portuguese fraternal spirit which stood in opposition to Salazar's fascist regime. 'Terra da fraternidade Grândola, vila morena, Em cada rosto igualdade, O povo é quem mais ordena' he sung – 'Land of brotherhood, Grândola, the sun-burned town with equality in every face, where it's the people who give the orders'. The song was broadcast in 1974 by the Portuguese radio station Radio Renascença as the signal for the upsurge that became the Carnation Revolution. There's an iron monument in homage to the singer outside the town hall. It's about the only sight of interest in the town itself; Grândola, while pleasant enough, is not a destination in its own right, but it is nonetheless the best place to base yourself along the central and northern coast, positioned for easy access to the beaches north to Tróia and south to Sines. The wetlands and meadows around the Santo André lagoon and the Roman ruins at Miróbriga are on the doorstep, and Grândola boasts some of the best rural hotels and restaurants on the Alentejo coast.