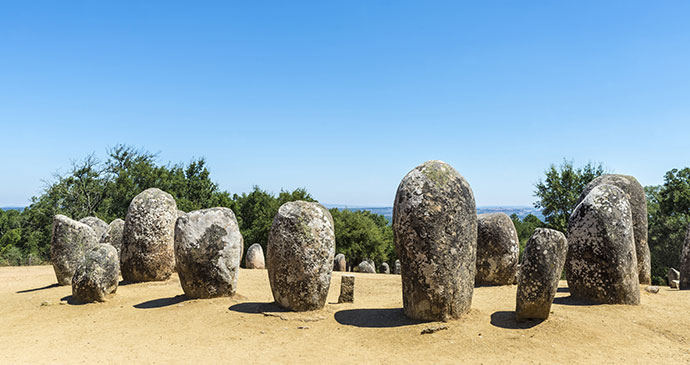 The ancient Cromeleque dos Almendres (Cromlech of the Almonds) continues to look out over Évora © J2R, Shutterstock
The stones of Cromeleque dos Almendres look like spectral, shrouded children, frozen in time.
Together with the cromlech of Vale de Maria do Meio and the Zamnujeira megalithic site, this group of mostly Neolithic monuments are the most significant in the Iberian Peninsula and rank among the most important prehistoric remains west of the Pyrenees.
Almendres Cromlech is one of the oldest and biggest stone circles in the world – with construction beginning around 6,000BC and continuing through to the structure you see today, which dates from around 3,000 years later. Almendres and the other monuments nearby are the best known of a scattering of some dozen stone circles and 800 menhirs in the Évora region – testament to the area's large population in prehistoric times. The monuments are of probable astronomical significance. Évora is situated on one of only two latitudes in the world where the full moon appears on the zenith on certain nights of the year.
The more famous and impressive Cromeleque dos Almendres (Almendres Cromlech, or 'Cromlech of the Almonds') is a huddle of more than 20 stones, smoothed into concaves by millennia and clustered in a cork oak grove on a hill, also looking out towards Évora. They look like spectral, shrouded children, frozen in time. Try to come during the week early or late in the day when the site is empty, the breeze plays in the trees and the grove is imbued with a sense of the sacred.