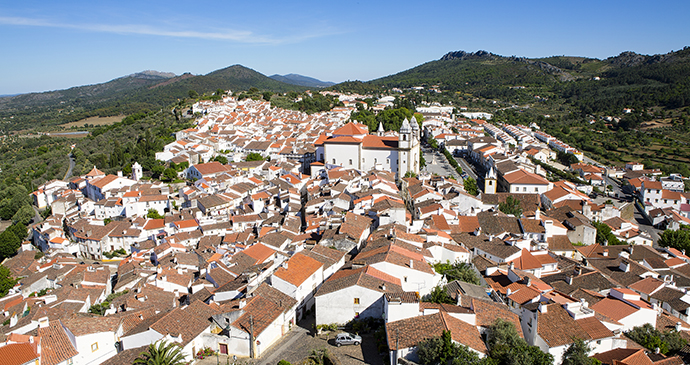 Wander the winding cobbled streets of Castelo de Vide, and discover the old Jewish quarter and synagogue © Alex Robinson
Castelo de Vide is all about the atmosphere. The delight is to wander the streets and soak up the views and sense of local life.
With sugar-white cottages, coloured pink and violet with hanging flower boxes and tumbling down a steep hill from a massive crusader castle, Castelo de Vide is one of the Alentejo's prettiest towns. Old widows wander the cobbles, men in cloth caps gather to chat idly on street corners and cats ooze out of open windows, with a stretch and a yawn, to lollop and laze in the sun.
Spring and summer late afternoons are particularly beautiful, after the monuments and museums close and Castelo de Vide returns to being a tiny provincial town, bathed in light as yellow and warm as melting butter and drifting into slow, sedate sleepiness. The views are lovely – terracotta roofs against the meadows and vineyards of the plain, furrowed with shadows by the sloping sunlight, the curves of medieval terraced houses rising to battlements or dropping to bell towers, the mantled coronet of Marvão's walls on a distant ridge. Around the castle meadow, butterflies fill the air like floating petals and in the narrow alleys of the ancient Jewish quarter the scent of dinner drifts out from half-open shutters.