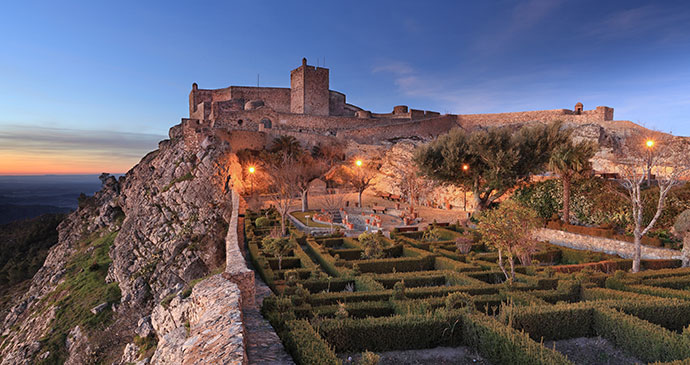 The fortifications of Castelo de Marvão seem to emerge from the actual rock © ARoxoPT, Shutterstock
Ringing a high, rocky ridgetop in a castellated coronet of ancient bulwarked stone, capped with a fortress and latticed with a labyrinth of Moorish streets, Marvão could be a film set for Game of Thrones.
There can be few castles anywhere with a better strategic position than Marvão's. The fortifications seem to grow out of the rock, the walls perched on the edge of a ridge as it ascends to a peak affording 360° views running to scores of kilometres in every direction. In 1758, when Marvão's fort had reached its greatest proportions, the Portuguese chronicler Frei Miguel Viegas Bravo described the castle as 'the most unconquerable in the entire kingdom… whose walls serve more for preventing those inside from falling than those outside from entering.'
Like most Alentejo castles, Marvão's is a composite building – walls upon walls, beginning with stones first assembled here before the Romans came. While some of the gates to the castle appear to be Roman in origin, the first great fort was built by Ibn Maruán, with many of the stones taken from the ruins of Ammaia. The castle keep and the walls were strengthened under the orders of Dom Dinis, who constructed an enormous cistern big enough to hold six months' worth of water for the entire town population in the event of a siege.