Highlights and itineraries
Highlights
Albania has something for almost everyone. Lovers of the outdoors will be happy just about anywhere in the country. The Albanian Alps in the far north and the mountains between Berati and Përmeti in the south are probably the best organised in terms of accommodation, guides and so forth.
The Lura Lakes, between Rrësheni and Peshkopia, and the Lunxhëria and Nemerçka ranges in the southwest, are more remote but offer fantastic hiking and cycling opportunities.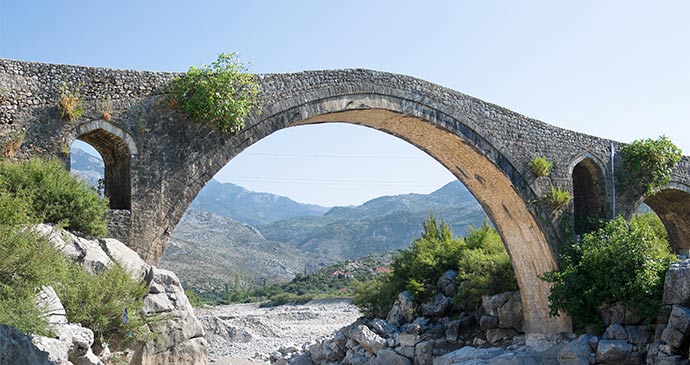 Those who are interested in archaeology and history will find Albania full of delights. In the southwest of the country, the ancient city of Butrint already draws hundreds of thousands of visitors every year. It richly deserves its status as the country's best-known archaeological site, but there are many other interesting Illyrian, Greek and Roman remains.
No visit to southern Albania would be complete without the ancient cities of Gjirokastra and Berati, with their hilltop castles and unique architecture. In the north, the castles of Shkodra and Kruja embody centuries of history, one layer upon another.
Lovers of medieval art should visit the icon collections in Berati, Korça and Tirana; the whole of central and southern Albania is full of half-forgotten churches with magnificent frescoes. Ornithologists will want to head for the coastal wetlands at Karavastaja, Kune Vaini and Velipoja. Finally, connoisseurs of beaches could easily spend a couple of weeks happily working their way up or down the Albanian Riviera.
Suggested itineraries
Where you go in Albania depends not only on what you like doing, but also where you enter the country. The main points of entry are Tirana International Airport, and Saranda, on the ferry from Corfu.
Those who approach Albania from other directions – from Montenegro, Kosova, Macedonia, Greece or Italy – will need to tweak these suggested routes to suit their starting points. All the suggested itineraries can be done by public transport, although the occasional taxi will speed things up considerably.