Author's take
Albania has been independent only since 1912. It was the last country in Europe, apart from Macedonia, to gain its independence from the Ottoman Empire and, in its first 30 years as a modern state, it was invaded and occupied, at different times, by all its neighbours. The government that took over in 1944 used a combination of terror, nationalism and isolation to retain power until long after the communist regimes elsewhere in Europe had fallen. Civil unrest bordering on anarchy overwhelmed the country in 1991–92 and 1997.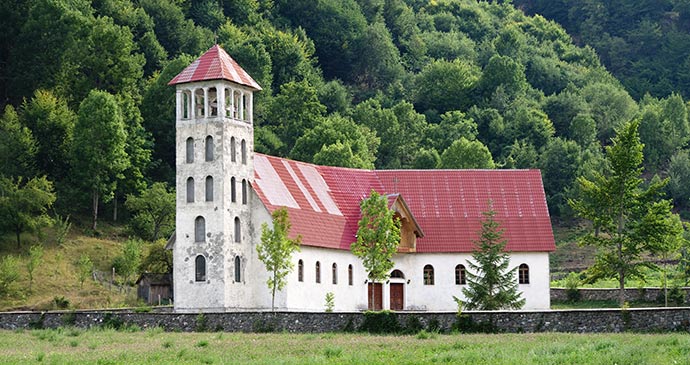 A church in Vermoshi, in the Kelmendi commune © ollirg, Shutterstock
Given this history, it is not surprising that Albania is so little known. During the communist period, practically the only Westerners who visited the country were in organised groups – ornithologists, art historians or curious adventurers coming in on bus tours from neighbouring Yugoslavia – which were carefully escorted by watchful 'tour guides'. During the 1990s, Albania stayed off the holiday companies' itineraries. It is only in the past few years that travellers in any numbers have started to discover Albania's beauty; its hidden medieval churches and very visible castles; its magnificent archaeological sites, with remains dating back 2½ millennia; and, of course, its delicious fruit, vegetables, lamb and fish.
Albania is easy to get to, by land, sea or air. Road infrastructure continues to improve across the whole country. It becomes easier every year to drive around, and car hire is a more appealing option than it was only a few years ago. It is still true, however, that using public transport is not for those who are easily discouraged or short of time. There are hotels of a reasonable or better standard everywhere. Since the first edition of this book (although not, I am afraid, solely because of it!), tourism in Albania has changed from being the preserve of the resident expatriates and their visiting family and friends, plus a few ornithologists, art historians and hard-core adventurers. It is now a country which people travel to for their annual holidays. Many of them are drawn to Albania's spectacular, remote wildernesses and, in this new edition, I have continued to pay special attention to hiking and cycling routes. Increasing numbers of visitors are coming to Albania in their own cars or mobile homes and I have tried to enhance the information for those driving themselves. The basic structure of the guide, however, remains the same.
Author's story
I first tried to visit Albania in 1982, when it was one of the world's most closed countries. Needless to say, this early attempt was a resounding failure; it was not until 1998 that Albania and I became acquainted. The four years that I went on to spend there were professionally rewarding and politically exciting, but – more to the point – gave me the opportunity to travel to more parts of the country than most Albanians ever do. As I was getting ready to leave, in the spring of 2002, a couple of Albanian friends suggested that my knowledge of their country made me the ideal person to write a travel guide to it.
The seed was sown. Back in Scotland, I contacted Bradt Travel Guides, who, fortuitously, were already thinking of commissioning a guide to Albania. Bradt had published earlier guides, in 1989 and 1995, but since then the country had changed beyond recognition and they realised that a completely new book was called for. I knew nothing about writing travel guides, but I thought I knew a lot about Albania. Unfortunately, much of what I knew tended to be of little practical use to the traveller – the political affi liation of the mayor, for example, or how many women were members of the local election commission – and I swiftly discovered that the project was going to require quite a lot more work than I had anticipated. It was fortunate that Bradt's editorial staff were such skilled hand-holders, coaxing out of me what was needed without plunging me into total despair.
For most visitors, the greatest revelation about Albania is the hospitality and kindness of the Albanian people. They won my heart long ago; having to update this book is nothing more than an excuse for me to go back to the country again and again.