The journey along Lake Komani deserves to be one of the world's classic boat trips, up there with the Hurtigrut along the Norwegian coast or the ferry from Puerto Montt to Puerto Natales in Chile.
Lake Komani is narrow and twisting, with sheer cliffs right down to the water in some stretches, complete with breathtakingly high waterfalls. It is part of a huge hydro-electric system constructed in the 1970s and 1980s but, unlike Albania's Lake Fierza further upstream, its topography was not much altered by flooding. In some places, the slopes are gentler and small clusters of houses can be seen. Here the people have terraced what little land is available, to pasture their livestock and grow maize and other crops. It must be a desperately harsh existence in these lakeside villages, where the only form of transport is a boat and where in bad weather you can be cut off completely from any shops, schools or medical care. Incredibly, some people apparently choose to live in even more remote spots, in the houses that can be spotted from time to time high up above the lake. Some of these houses are now abandoned, but others are still occupied, at least in the summertime, by hardy souls who work their land and build their haystacks as their ancestors did before them.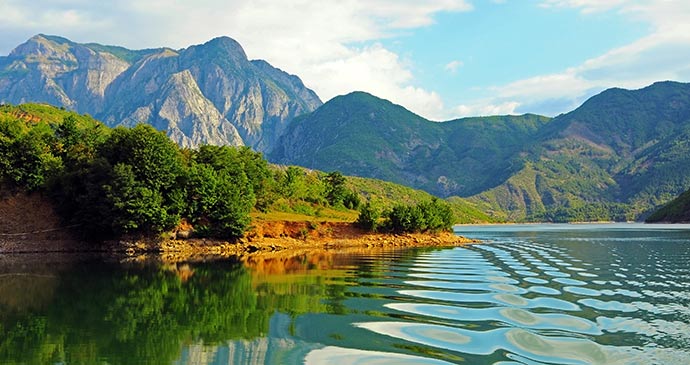 Thoughts of the hardship of these people's lives need not deter you from marvelling at the magnificent scenery. Because the lake follows the twisting line of the river on which it is based, the boat at times appears to be heading for an unbroken cliff face. At the last moment, as it begins to turn, the break in the rock appears and the continuation of the lake can be seen through the gorge ahead. In these narrow stretches, the steep rocks on either side of you seem even higher than they really are.
The water is a deep jade colour, and the cliffs and trees climbing up above it are reflected in its intensity. In the less steep stretches, you can see the far-off summits of the Dinaric Alps, more than 2,500m high. Herons (Ardea cinerea) and pygmy cormorants (Phalacrocorax pygmeus) live around the lake, and golden eagles (Aquila chrysaetos) and chamois (Rupicapra rupicapra) can sometimes be seen up in the surrounding peaks.