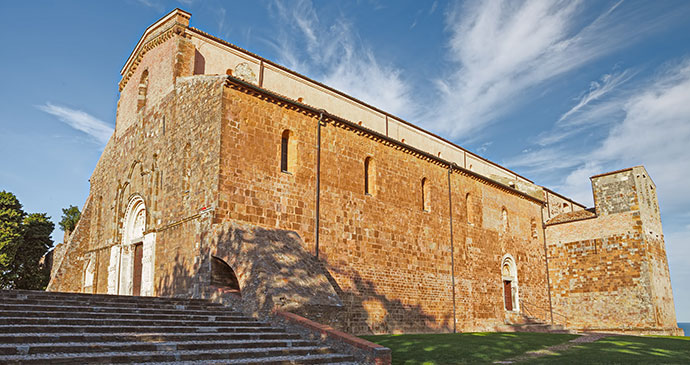 The abbey's current structure was built in 1165 © Ermess/Dreamstime
While away an afternoon in the rosebushand palm-tree lined cloisters of the Abbey of San Giovanni in Venere.
This is one of the most famous and historically significant abbeys in Abruzzo. The current structure was built in 1165 but is said to have been constructed on the site of a Roman temple dedicated to Venus (hence its name, Venere, the Italian for Venus). Its location on a small olive-grove hill 100m from the coast and overlooking the Adriatic makes its situation just as appealing as the building itself.
The entrance into the abbey is through the famous Luna, or moon portal, decorated with some beautiful reliefs. On approach to the abbey, this door appears to be the side entrance but is actually the north-facing main doorway. The nave and its two aisles contain frescoes from the 12th–14th centuries. Some of these are particularly well preserved and vividly coloured, especially those in the crypt.
The abbey's cloister (closed lunchtime, usually anywhere between 12.30 & 14.00) is perhaps even more attractive than the abbey itself. Its landscaped garden, with roses, palm trees and two tall conifers, is framed by charming lancet arches beneath bright, terracotta roof tiles.