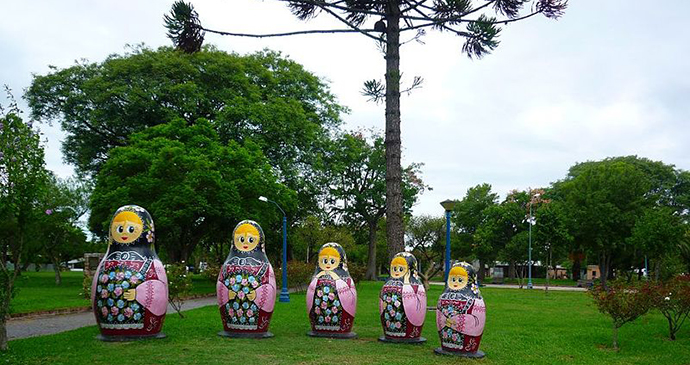 San Javier's matrioshka dolls are a reminder of the town's Russian roots © Louis Lalaguna, Wikimedia Commons
Home of the New Israel sect, this village is now the main jumping-off point for ecotourism and birdwatching along the Río Uruguay.
Settled by Russians of the rather odd New Israel sect in 1913, this village of around 2,000 people is now the main jumping-off point for ecotourism in the national park.
As you enter the village on Artigas, the Sala Cultural Pobieda ('Victory' in Russian) is on the right just before the main crossroads with Calle Lubkov. The small Museo de los Inmigrantes is here, with interesting photos and documents of the Russian community. There were plans for it to move to the former Cooperativa shop, just across Lubkov, but these seem to be on hold for the time being. Next to the Cooperativa on Artigas is the Galpón de Piedra (Stone Store), built without cement in 1914 when each family brought two cartloads of stone; it's now the national park's visitor centre. Alongside is the community's flour and oil mill, built in similar style to the galpón but enlarged in concrete in 1945, and now abandoned.
Beyond this is an area of parkland by the Río Uruguay, with a slipway and jetty. Turning left at the Prefectura on the Paseo de los Inmigrantes, you'll see two tombs to the left under a large eucalyptus tree. These belong to Natalia Gregorivna Lubkova, Lubkov's wife, and Maxim Lavrentievich Shevchenko, the group's 'apostle'
To the south of San Javier there are riverside cliffs and gallery forest with wetlands to the east, then another line of cliff and forest – it's ideal for exploring by horse, but you can also walk (in about 3 hours, if you're busy watching birds) along the river to the Arroyo Farrapos. Watch out for the spiky acacias near the start; unfortunately cows are still being grazed on islands in the national park, spreading acacia seeds there. It's also possible to take a boat, the Manuelita II: ask at the Junta Local or Prefectura.