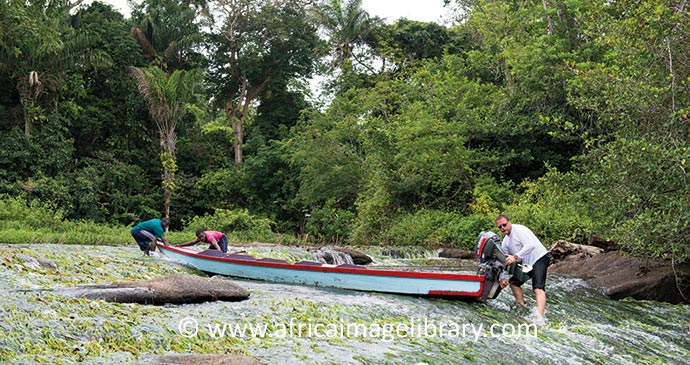 Take a boat up the river and pass the isolated villages of Upper Suriname © Ariadne Van Zandbergen
Best explored over several days, this waterway running deep into the forested interior is studded with pretty rapids and lined with traditional Saamaka villages and low-key camps and lodges.
The most easily explored part of Suriname's interior comprises the Upper Suriname River, which stretches inland from the southern shore of Brokopondo Reservoir to the northern base of the remote Eilerts de Haan Mountains. Wild and largely untrammelled despite its relative accessibility, the Upper Suriname is lined with a few dozen small settlements and 20-odd island-bound or riverside lodges, all of which share a down-to-earth rustic feel in keeping with their jungle surrounds. It is also one of the most exciting parts of Suriname to visit, whether you opt to splash out on a fly-in package to the relatively upmarket Anaula, Danpaati or Awarradam, or to explore the river more whimsically, staying at budget lodges and using inexpensive taxi-boats to propel you slowly southwards.
A compelling feature of the Upper Suriname is its rich traditional culture. The only inhabitants of the region are the Saamaka, or Saramacca, descendants of escaped slaves who made the river their home several hundred years ago. The ancient African roots of the Saamaka are manifested vividly not only in the physical appearance of the people, but also in their social structure, in the organic wood and palm frond constructions that typify their smoky villages and in a traditional culture steeped in animism and ancestor worship. Every so often whilst on the river, a small dugout paddles past manned by two or three people off to visit a neighbouring village or go fishing for their evening meal, a scene that could come straight out of West or Central Africa. Indeed, though the Upper Suriname is part of South America, there is an oddly African quality to it.
Large wildlife is scarcer (or perhaps just shyer) here than it is along Suriname's less populated waterways, largely as a result of hunting. Still, it's not unusual to see squirrel monkeys as you cruise upriver, or to hear the eerie communal calls of distanthowler monkeys. And birds are everywhere. Pairs of pied water-tyrant sit perkily on the rocks, often accompanied by cryptically camouflaged ladder-tailed nightjars and small flocks of white-banded swallow. Ringed and green kingfishers flash past a few metres above the water. The delicately marked striated heron is common, but you might also see the occasional (much larger) cocoi heron wading in the shallows, or a capped heron foraging below the rapids. Brightly marked parrots and toucans roost in riverside trees or flap noisily overhead, while raptors such as the dramatic swallow-tailed kite are mobbed by the ubiquitous greater kiskadee.